Home
Michelle
David
Configurators
Triathlon
Other Links
Recently I decided to get back in running shape after not having run in 4 years since university. My first try left me gasping after just 1/3 of a mile and a couple of minutes. Shortly after that I decided that I may as well make use of the running that I was doing. I had always wanted to do a triathlon so I decided why not? After looking around the internet a bit I decided to start with a sprint triathlon in Dension Texas with my longer term goal of doing the Escape from Alcatraz Triathlon next summer. The Denison Dash triathlon put on by Ironhead Race Productions involved a 300m swim followed by a 13.8 mile bike, and a 3.5 mile run. After a couple of months of running, biking and swimming my wife and I got up early on Saturday morning October the 2nd. Actually early doesn't really describe it properly, 4:00 AM actually seems more like the middle of the night rather than the morning. (on a side note weekend trips to Toronto to visit our friends Mike and Deneen have gotten us somewhat used to these middle of the night awakenings.) Michelle and I had an uneventful hour and a half drive to Denison. Traffic is great here in Dallas on Saturday at 5:00 AM. We arrived just after 6:15 AM and I went into the pool to get my registration package. After registration we parked the car and I grabbed my bike and began to set things up in the transition area. After setting things up I was ready for the pre race meeting

I was queued as number 74 based on my estimated swim time. The race began promptly at 7:30 AM as the first swimmers began their swims at 10 second intervals. After several minutes it was my turn to line up and get ready for the start of my first triathlon.
With a count down of "3.. 2.. 1.." I was off. The first couple of lengths went very well however on the 3rd length my right calf began to cramp. What a pain, I had swum up to 2.5 km in training without ever experiencing this. After flexing my calf a couple of times the cramp seemed to go away and I was able to continue without any further problems. Five minutes and 48 seconds later I was out of the water and headed towards the first transition to the bike. I thought the transition went well, considering it was my first. The only major problem was the fact the the bike course started uphill and I had left my bike in its top gear. This cost me time as I quickly moved the pedals by hand to get the bike in a lower gear. Oh well just the first item to add to my checklist for next time. At any rate in 2:40 I was done with the transition and headed out onto the bike course.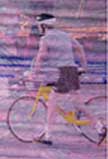 It felt good to get on the bike and the first hill went fine once I got into the right gear. As I got to the top I checked my bike computer to check my speed and saw that it wasn't working. Doh! When I had packed my bike the magnet on the front fork had moved out of place and wasn't close enough to register my speed, item 2 to add to my pre-race checklist for next time. On the first major straightaway I hit a bump and was showered with some water from my aerobar mounted water bottle. Item 3 to add to my list, make sure there is a proper lid on my water bottle. On this straightaway I also caught site of the race's first casualty (one of two as I found out later) A girl had wiped out and was lying in the ditch. I wasn't sure what to do so I continued on. (The race marshall found her soon after) After a couple more corners we headed up a 3/4 - 1 mile hill. I was screaming on my new bike (a used Softride PowerWing) and passed 3 or four other riders. As the hill got steeper I remembered to try and stay in a low gear so I could spin up the hill and save my legs for the run even so I still passed several more riders before the hill was complete. After a few more turns and after passing a couple more riders things began to spread out a little bit. The course was very demanding with a lot of hills and sharp corners. I quickly learned to shift into lower gears prior to hitting a corner so that I could accelerate out of them. After a really steep hill I began the final descent back to the transition area. This is where I noticed item 3 for my race checklist, make sure the race number is firmly in place before starting. The number was not as tightly attached as it should have been and it began to flutter in a manner that caused me to fear it would fly off thus voiding my time for my first race. I held it with one hand while finishing off the rest of the hill and headed into the transition area with a time of 44:28 after having passed 10-15 other bikers. The transistion was uneventful other than a quick conversation with my wife telling her I still felt pretty good. I headed out to the run and grabbed a drink of gatorade.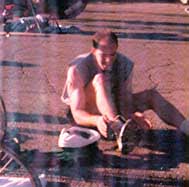 The run started with a slight downhill and my legs didn't feel as bad as they had in some of the training runs I had done but I felt very very slow. After a turn I headed into the local park and realized that everything was uphill again. It felt like I was barely moving as I headed on up. Part way up the hill several people passed me and I saw the lead runners cruising on down the hill heading to the finish. Oh well I decided that I was just here to finish my first race not to win. After the first hill was done I turned a corner to find yet another one that was even steeper. My pace continued to slow down. Finally I reached the top of the hill and headed towards the lake that we were to circle. As I reached the lake there was an aid station where I stopped and grabbed a cup of water said thanks and headed off around the lake. The path went off road and lead to a dirt trail. Several more people passed me as I reached the trail. The trail was fun as I had to jump over tree stumps, run over wooden bridges and run up sandy slopes. All in all it was a good change from the standard road running in most races and I even passed one runner while only being passed once myself. The trail ended about two thirds of the way around the lake and as I headed out towards the aid station again people began to catch up. Item 4 to add to my list improve my running speed. I stopped at the aid station and grabbed another drink said thanks again and let a couple more people pass me. Then I headed on towards the downhill section. I began to think about when I would start my kick. I was still a mile away and I didn't feel like I could last that long but I did decide to not let anyone else pass me. Going downhill was much easier than going uphill and I could see lots of people still coming up the hill. I finally reached the bottom of the hill and left the park area to head towards the finish line. With maybe 200m left I started my kick (at least I thought I did after talking to my wife she seemed to think that I was running quite slowly. Good thing she hadn't seen my running up the hills at the start of the run ...) I cruised across the finish line with a run time of 31:40 and an overall time of 1:24:35 (Note the clock in the picture was started when the first swimmer left)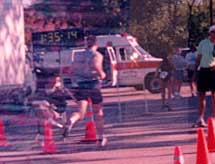 I had finished my first triathlon. My goal time was to finish in under 1:30:00 so I was pleased with my finish time. The swim was right around my estimate of 6:00. My bike was faster than I had hoped at 44:28 and my run was slightly faster than my regular run pace of 9:30 minute miles with an average time of just over 9 minutes for a total run time of 31:40. I placed 59th in the swim, 40th on the bike and 90th on the run with an overall finish of 61 out of 175.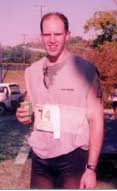 Post race Michelle and I hung around for an hour or so to watch the final finishers and see the awards handed out. The oldest finisher was a 72 year old man who finished in 1 hour 52 minutes. Pretty impressive I thought. I didn't receive any awards so I just sipped gatorade and snacked on some sandwiches. All in all I had a great time and I plan on returning next year.