After my big race for the year the Alcatraz the Ultimate Escape Triathlon I had decided to take some time off from racing. My decision was aided by the fact that summer temperatures here in Dallas can reach well over 100 degrees and coming from my northern background I tend to not perform as well in warm weather. After taking it easy for a month while still training I was talking to one of my co-workers who was interested in doing one the short summer duathlons put on around White Rock Lake in Dallas. Since this would be his first race, and because I was in the mood to test out my summer training I told him that I would also do the race with him. The course was a 2 mile run, 9.6 mile bike followed by another 2 mile run. Since the course was pretty short I decided that I would train through this race and not bother doing much of a taper. With this in mind I took Saturday off and went with my wife to sign up for the race.

Saturday evening as I packed my stuff for the morning I went over some goals for the race. I figured that if I could keep my runs under 30 minutes I would have a shot at keeping my time under an hour. With that in mind my wife and I set goal times of 14:30 for the first run and 16:00 for the second run. The bike I would just go by feel but I figured that the worst case scenario would be around 26 minutes (Of course I forgot about the .6 miles and was assuming 9 mile Oh well) this would leave me with just over 3 minutes for the two transitions and I would be able to break an hour. With everything packed and ready to go it was time to watch the Cowboys lose yet another pre season game and then head to bed.

I awoke before the alarm as usual on race day. I quietly got out of bed and

grabbed a bowl of fruit loops and some orange juice. Soon my wife was up and by 5:30 we were on our way to the race. After a little bit of back tracking we finally arrive at the race site around 6:15 with plenty of time to spare. My wife helped me set up my bike and we headed over to the transition area. After getting my bike set up I realized that I had forgotten the rubber tube that was supposed to attach to my areobar water bottle so that I could drink from it. Ooopps, something else to add to the checklist. I figured that I could still drink through the plastic stem the the tube went on so I didn't worry to much. With everything set for the race we looked around for Marty and listened to the race announcer. He was talking about how hot it was going to be (90 degrees plus) and that some of the roads that we were going to be racing on were under construction and would require people to slow down. Great I thought, there goes my hour goal, my bike was supposed to be my strong portion of the race. Oh well at least I had my Softride so hopefully I would better off than my other non suspension, solid frame road bike peers. My wife and I began to look for Marty. About 10 minutes before the start of the race we spotted him with his girlfriend. We said hello and he quickly put his bike into the transition area. As soon as he was finished I said goodbye to my wife and we headed over to the start.
With a blast from an actual starters pistol the race was off. I quickly threaded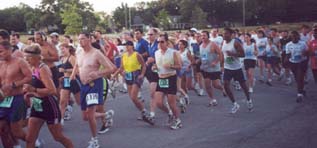 my way through the crowd and soon settled on a comfortable pace with Marty right behind me. The run was a one mile out and back going north beside White Rock Lake. The bike portion circled a number of streets and went around the lake and the final run was a 1 mile out and back going along the south shore of the lake. The first half mile went pretty quickly in 3:45 right on target. I had been passing a number of people including some of the early sprinters who had sprinted off of the start and were now slowing. As I hit the half mile point, I began to calculate when I would start seeing the lead runners returning. Not to be disappointed they arrived as soon as I had finished my calculations. They seemed to be very fast. In fact the first few looked like they were running a 400m sprint, not a 2 mile run.
Soon enough I reached the turnaround with Marty still right behind me. My split was 7:10 which was just about the right pace. I had been reeling in a lot of people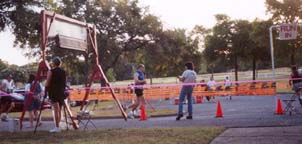 in the first mile but I was now lumped in with others running at pretty much the same pace. By this point I began to get a little tired and thirsty. The heat was reminding me that I should have had more to drink before the race. I was very appreciative of the shade trees that covered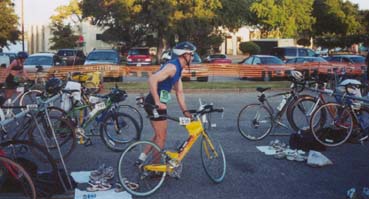 a good portion of the run. I began to slow a little and I concentrated on keeping my cadence up. I checked my watch a few times and I seemed to be staying on pace. Soon enough I neared the transition area. I checked my watch as I finished the run with a time of 14:38. Just 8 seconds over my goal. I was pretty pleased with this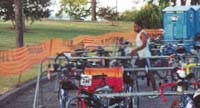 as I headed towards my bike especially considering the heat. I grabbed a cup of water and then took my time getting onto my bike causing a fairly slow transition time. As I left I gave my wife the thumbs up and headed out of T1 with a time of 1:18. Meanwhile Marty was getting onto his bike and heading out right behind me.
My legs felt very heavy for the first several miles of the bike. Even so I was able to pass a number of the speedy runners in front of me as the course wound around bike paths in the park heading for some streets around the lake. I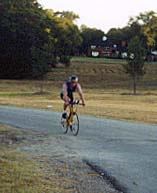 made sure that I drank a lot of water and kept spinning to keep my legs from getting too tired. I was able to cruise just over 20 miles an hour and continued to pass a number of people until I finally hit the road that was under construction. I had feared that it would be in very bad shape with manhole covers sticking out of the cement like landmines but the reality was far better. There were just some ruts that had been scrapped into the road in preparation for repaving. With my Softride I barely felt a thing and I was soon cruising past some more riders. As I rounded the southern shore of the lake and began to head north the number of riders ahead of me began to diminish. I passed several more before I hit the north shore and reentered the park. I was only passed by one cyclist the whole time and I re-passed him with about 3 miles to go. As I rounded the north shore and south back to the transition area I could see a couple of cyclists far off in the distance. I quick glance behind me showed that there were no riders anywhere close behind either. By the time I had entered the winding paths by the shore of the lake I could no longer see anyone in front of me or behind me. With just a mile left to the transition area I shifted down a gear to spin in order to prepare my legs for the final run. When I started the last hill down toward the transition I took my feet out of my cleats and slowed to a stop. Total time for the bike 26:51.
T2 went very quickly as I racked my bike and slipped my shoes on. I grabbed another cup of water and then was off on my final run. Time for T2, 48 seconds. As I left the transition I heard my wife calling out. I glanced around but wasn't able to see her. I began to concentrate on the run. I felt very slow and a quick glance at my watch showed that I would need to keep pretty close to my 16 minute goal in order to finish under an hour. The first half mile was mostly under the now blazing hot sun. I was expecting the speedy runners behind me to soon overtake me but by the time I hit the half mile mark only two people had caught me. The slower of the two I was able to keep pace with and I reached the turnaround just a few steps behind him. At the turnaround I saw that I had just over 8 minutes in order to finish under an hour. I walked the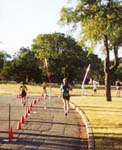 aid station just after the turnaround so that I could finish my whole cup of water. Feeling a little refreshed I chugged back up to speed quickly and caught back up with my pacer. I began to look for Marty and the half mile mark. I saw Marty first and gave him the thumbs up. I hit the half mile mark with just over 4 minutes left. My pacer began to speed up and I tried to keep pace but the hot sun was pretty tiring. The last quarter mile to the finish was a slight uphill that found me longing for the finish line and my wifes cheers! I could hear the heavy breathing of someone closing in from behind and there wasn't much I could do as he eased on by breathing like a steam locomotive. A quick glance at my watch as the finish line appeared showed that I had an easy 30 seconds left to break an hour. I stepped it up until I was in the finish chute and then eased up to cruise on in right on target with a time of 59:40.
I was very tired after the finish and walked over to get some water. My wife immediately joined me and was excited with my sub hour time.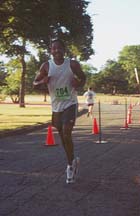 I grabbed several drinks I followed her over to a bench where she had been waiting with Marty's girlfriend. We decided to wait for Marty's finish and talked with her for a while. The bench was in the shade and with a nice breeze it was awesome for a quick recovery. Within a few minutes I was feeling pretty good and grabbed a Sprite. A few minutes after that Marty appeared rounding the curve starting the last quarter mile. I opted to grab his finish line picture and headed to the finish chute. He smiled as he cruised into the finish and I snapped his photo. His first successful duathlon.
After Marty had grabbed some refreshments he followed me back to the bench. We talked for a while and watched some of the remaining finishers. Marty wanted to stay for the awards ceremony so Michelle and I opted to wait as well. About 10 to 15 minutes after Marty had finished they started the awards. First place went to someone with a time of 48 minutes. A look at the results showed that they averaged just over 5 minutes miles on the run. Fifth in my age group had a time of 55 minutes so I ended being pretty close to actually placing. Overall my final results were Run 1 14:38, T1 1:18, Bike 26:51 (good for 18th overall), T2 :48, Run 2 16:08, Total time 59:40. All in all it was a fun race to do and I am pleased that I met my goal especially considering the heat. My runs have improved a little and my bike continues to be my strong point. I will probably catch one of the fall races put on by Thruston Racing at the same location to see how I do in cooler weather. Marty also had a good time and will probably end up doing some more races in the future.