Alcatraz - The Ultimate Escape
Introduction and Pre Race Countdown
Introduction
This past weekend has been formally dubbed 'The Ultimate Weekend' by my wife and I. This was the weekend for my big race of the year, 'Alcatraz the Ultimate Escape' a 1.5 mile swim from the rocky shores of Alcatraz followed by a 2.5 mile warm up run, a 13 mile bike and then a 7.5 mile run to finish things off. I had been uping my training levels for the previous month to prepare for this race.
T Minus 3 Days to Race Day
My pre race preparation began on Wednesday when I went to my local bike shop to pick up my rented bike case and get my bike packed for the flight from Dallas to San Francisco. Since I had never packed a bike before I asked if they would help me out. The shop owner agreed and soon my bike was been broken into pieces while I watched to make sure I remembered how to put it back together again. First the wheels came off with the skewers removed. Then the pedals came off, followed by the handle bars which were removed and turned sideways to face the inside of the frame. Then the seat was removed. So far so good With a simple hex wrench everything would easily go back together. Then we tried to fit the frame into the the bike into the case. Unfortunately the frame and crank were about 1 inch to high to fit. The necessitated a removal of the crank. With a few quick twists of a wrench that was done and the bike was in the case. The owner then tied the chain up so that it wouldn't scrape the frame and covered the rest of the frame with some cloths wherever something might rub the frame to protect it. Then with some spacers in the front and rear forks the case was sealed. With my bike prepared for its journey I thanked the owner and tried to make a mental checklist of all that he had done so that I could get the bike back in after my race for the trip home. His help was invaluable in making sure that my bike made this trip safely. What took about 25 minutes to watch would have easily taken a long frustrating hour if I had tried it myself. When I finally left I also found out the bike easily fit in the backseat of my wife's Accord. I was surprised by this but glad since this meant that I could avoid having to rent a minivan or jeep in San Francisco.
On Thursday I spent the evening packing and double checking with my wife that I had everything that I would need for my race. I realized that I didn't have a crank remover for my bike to repack it after the race so I stopped by the bike shop and picked one up along with some Clif shots (Raspberry flavour) for the race. As I packed all of my stuff into my backpack for the race I began to realize just how much stuff I would need. Normally I take a very small knapsack with me for weekend trips. For this trip I had a full backpack, my huge bike case and my small knapsack. I actually had more luggage than my wife :) :) (now I have a slight idea of what it must be like to travel as a woman ;) With everything ready to go in the morning my wife and headed to bed ready to fly out Friday morning for our long Ultimate Weekend!
T Minus 2 Days to Race Day
Friday we got up early at just after 6:30 and headed to the airport for our 9:15 flight. On the way I fretted somewhat over the safety of my bike and whether or not I would get a hassle about the size of it. Thankfully since I have flight privileges the fee for bikes was waived and the gate agent had no problem with the size of the case. I was still a little worried about how the bike would be treated but as we got seated in the plane I could see it being gently loaded by two of the ground crew. Wow they were actually being gentle with the luggage!
The flight finished pretty quick and Michelle and I headed through the crowded San Jose airport to the rental agency to get our car. The rental car workers seemed perplexed at the size of my luggage and were amused as I placed it in the backseat of our rental car. The seemed to think that it wouldn't fit. By 11:30am we had left the airport and were free for the afternoon. We drove through downtown San Jose and then stopped by a local mall for lunch and to grab some books to read. Since we were having supper with Michelle's brother in law Larry in Cupertino we headed over towards his place and spent an awesome afternoon relaxing in a local park reading our books and occasionally chasing the local ducks and birds. This was an awesome way to rest after a long week (and a great way to taper for the race!). We met Larry for supper at a fish market and had a great seafood supper and then headed back to his place to watch some Canadian Air Farce videos and This Hour has 22 minutes videos. It was great to see some funny Canadian humour. We don't get much of that in Texas By 9:00pm we were on our way to our hotel in downtown San Francisco and I was getting ready to put my bike back together.
The Crowne Plaza hotel we were staying at was in the heart of downtown San Franciso near Union Square. The drive in gave me a sampling of some of the massive hills that were awaiting me in just a few days. After checking in I began to reassemble my bike. It actually went pretty quickly and in about half an hour it was ready to go. (The bike tools I got for Christmas from my mom were indispensable for this! Thanks Mom.) The bike had finished part one of it's journey.
T Minus 1 Day to Race Day
After a good nights rest I got up at around 8:30am to test my bike out outside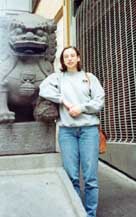 the hotel to make sure everything was in good working order. I got a few funny looks from people as I carried my Softride out of the Hotel but it was a good thing I did since I found out that I had not tightened the stem enough as the handlebars
spun around as I tried a corner. I quickly fixed that and was very thankful that I had found it before the race and not during! Satisfied that the bike was ready to go I returned to the hotel to meet Michelle and get some breakfast. Michelle and I weren't sure where to go so we wandered around town heading towards the wharf. We stopped at a cafe for breakfast and had some pastries and V8 Splash. We decided to walk down to the wharf. As we wandered we passed through China town.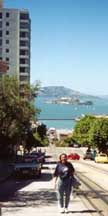 As we continued through the downtown we passed by the Trans America Building. I had been told that this was the point that I should aim for in the Alcatraz swim to ensure that I the current wouldn't pull me downstream. We visited Pier 39 where Michelle got some Ghirardelli chocolate and we got a great view of Alcatraz. Since the tours of Alcatraz were all sold out we opted for a boat tour of the bay. The tour took us out along the wharf to the Golden Gate bridge and then around Alcatraz where I got a good view of where I would have to swim. At this point I actually began to get a little nervous imagine the view the next morning as I would be entering the cold waters to challenge the 'Rock' As we docked on shore I realized that the next time I got onto that boat I wouldn't be returning with it. A sobering thought indeed. The rest of the afternoon was spent touring some shops and visiting Ghirardelli Square
(for more chocolate of course :) With the afternoon winding down it was time to drop my bike off at the transition area at Crissy Field. We wanted to ride on the trolleys but the line was far too long we opted to walk back to our hotel the 'short' way which went over some of the steepest hills in the downtown while following the trolley tracks.
It took some navigation skills to find the transition area. After stopping to check for directions in Presidio Park we finally arrived at the race site. The bike transition area was in an old building at a former army base at Crissy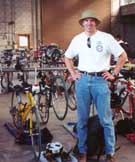 Field. I found out afterwards that it was actually a former tank repair building and still had hoists to lift the tanks off the ground for people to work on them. I checked in, got my shirt and some instructions. I also had the back of my hands marked with my race number '51' This seemed a little odd since the race wasn't until the next day however they claimed that it was necessary to speed things up the next day. Then I found a space on one of the racks for my bike. Since I would need my running gear at the first transition from the swim there wasn't much to set up. I filled my aerobar water bottle and my transition was ready. On the way back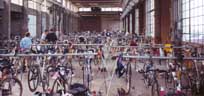 to the hotel we decided to rent a bike for Michelle so that she could more easily follow the race the next day. At $25 a day it seemed like a great idea. We also stopped at the local grocery store to get some Pam for my wetsuit where I got a few comments about the numbers on the back of my hand. Then we returned the hotel and wandered around some of the shops at Union Square including FAO Schwarz. Finally we had a late supper at Planet Hollywood and got back to the hotel around 10:30pm. This was a little later than I had planned so I quickly got all my stuff ready to go for the morning. This kept me from getting too nervous and by 11:00pm we were both asleep after an awesome day of sightseeing.
Continue to ... Race Day Morning - The Escape Begins