I was not really planning on doing the Metroplex Sprint triathlon however after what felt like a poor open water swim at the Olympic trials age group race I decided that it would be a good idea to do this race to help prepare for Alcatraz. The race consisted of a 800m open water swim, 30km bike and 5km run. My goal times were to beat 18 minutes on the swim, 57 minutes for T1, T2 and the bike, and an under 25 minute run. Since my plan was to use this race as an open water swim practice I decided that I would take it slow and easy on the swim and breath bilaterally as if I was pacing myself for the 2.5km Alcatraz swim. This would prove to work out quite well.

I awoke early as usual just before 5:00am. Since I had packed everything into my car the night before I was pretty much ready to go. I decided that I would let my wife sleep longer while I ate my pre race bowl of Fruit Loops and checked out the weather. As had been forecast there were clouds over most of the city and a good chance of scattered rain throughout the day. With this in mind I opted to grab an extra towel for drying off after the race. As 5:15 rolled around I woke up my wife and within 15 minutes we were on our way into the early morning darkness.

With the race just 35 minutes away the drive was quick and uneventful until we got close to the race area. Rain began to splatter on the windshield and woke up my wife who was trying to rest. (She is just not a morning person so these early morning races are worth major points!!) I commented that it was probably just a localized shower something we get a lot of in Texas. Just a few moments later the rain died down and I relaxed only to have it start up again even heavier a mile further down the road. This would be an omen for the rest of morning.

As we turned into the park where the race was being held we could see a steady stream of cars pulling in. By the time we reached the parking lot it was apparent that there were a huge number of people coming for this race. I had been expecting around 400 but it looked like more than that. Once we were parked I quickly put my bike together and tested the brakes and gears to make sure everything was in working order. Since the transition area was about half a mile away I didn't want to make multiple trips so I grabbed everything I would need for the race and with some help from my wife we headed to the transition.

When we arrived at the transition area there was already a huge number of people there. With rows upon rows of bikes it took several minutes to find my rack. This was definitely going to be the largest triathlon I had ever participated in. I laid out my stuff on my towel. First I placed my cycling cleats with my straps open, with my helmet on top. Behind them I placed my running shoes where I left my socks already rolled up with my sunglasses on top. Then I draped my jersey over my bike. Then I placed my bike on the rack backwards resting my seat on the bar. With my transition area all ready I talked a little with some of the people around me and then I walked over to where my wife was standing to wait for the start of the race.

I personally don't like to warm up by doing any swimming prior to my race. I don't like getting wet and then having to wait around for the start of the race. For this race I was going to be in wave 2 of 5 so I knew that I if I warmed up (or is that cooled off :) in the water I would still have to wait 10 or 15 minutes until my wave started. Thus I elected to wait and talk with my wife. I gave her my rough estimates for each segment of the race so she would have a reasonable idea of when to expect to find me. Soon enough we had the pre race speech given by the race director Jack Weiss. After the usual anti-drafting talk and some brief rules it was time for the first wave to get into the 79 degree water (okay so I guess it really wasn't that cold :) to start the race. At this point I bid goodbye to my wife and she headed of to the side while I put on my swimming cap and goggles and got in line for the second wave.

With a blast of a horn the first wave of 30-35 year olds was off. Immediately people from my wave of 25-29 year olds headed into the start chute and down into the water. The swim was starting in the water and consisted of an isosceles triangle with a 300m swim to the first buoy, 200m swim to the second one and another 300m swim back to the finish. I waded into the murky water which had been made worse by all the sediment brought up by the previous wave. The bottom of the lake was very mushy so I quickly got into deeper water so I could start swimming. I took a few warm up strokes and reminded myself that I wanted to keep this swim easy and not kick to much to keep my legs fresh for the bike. I positioned myself in the middle of the pack several rows back from the speedy people. Soon enough the second horn blasted and my swim was off!

With over 100 people in my wave the start was pretty crowded and there were a few kicks and bumps right at the start. Soon I steadied myself into a nice

rhythm breathing easily bilaterally every three strokes. I felt pretty good and only needed occasional sighting to keep on course. There were a few bumps on the first leg mostly with people swimming off course or those annoying breaststrokers. I got hit by several during the swim. You look in front of you and nothing, then suddenly there comes this big kick towards your head! Or there is no one close to you on either side but all of the sudden an arm slaps you. At any rate there wasn't to much traffic until I got to the first buoy. It was a fight to get around it as I opted for the inside part of the turn. Soon enough that was over and I got back into my more relaxed stroke. Then I began to get hit by someone swimming sideways into me. After being hit about 3 times in succession I gave him an elbow (thanks to my old rugby days) and was bothered no further. During the second leg I seemed to be holding my mid pack position fairly well. I even began to see a few caps from the earlier wave. I felt especially sorry for on swimmer though. About half way through the second leg I came upon a lady trying to do backstroke. She was zigzagging a fair amount and people from my wave were just pummeling her as they swam on past. I don't even think many of them saw her until they were almost running into her. During this leg I also got several good whiffs of gasoline that was coming from the motor boat watching the swimmers. Yuchh! As I neared the second buoy I sighted myself and saw that I was near a number of people coming back in the opposite direction I paused for a moment wondering if I had missed the buoy but in fact I had just swum slightly off course. About 50m later I was back in the scrum rounding the last turn. After whapping a few people and getting whumped back I was heading back towards the finish. The traffic seemed to be reduced by this point and I was able to easily finish the swim as I began to concentrate on resting my legs a little bit before the bike.
As I reached the boat ramp that was being used for the exit from the water I remembered to hit the split on my watch for a time of 15:43. I was very pleased with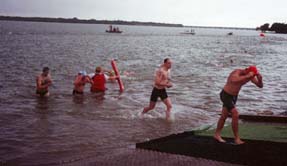 this time considering it is the same pace that I normally keep on a much shorter 300m swim. Either the course was short or I somehow got a drafting advantage from all the other swimmers or I actually swim faster when I don't try to swim fast! At any rate I felt really good and my legs were not tired at all. Very different from my last race. I jogged to my rack which I remembered as the 5th one on the left. (It was also by the first tree on the left as my wife pointed out before the race) All the bikes were still on my rack so I felt pretty good about my swim. I quickly put on my helmet, slipped on my socks, cleats and sunglasses. Since it was beginning to rain I decided to opt out of wearing my jersey. I grabbed my bike and was off towards the exit. Total time for T1 1:50.
As I started to bike out of the transition area I again remembered to hit my split button, and start my bike computer. (Almost always I forget
one or the other until I have finished several miles on the bike) As I left the park it began to sprinkle a bit more which I suppose made sense, rain on the way to the race, no rain during the swim, and now rain on the bike. With the roads being pretty slick I decided to take the corners pretty easy. The course was a 'P' shape which started after we biked a mile or so through the park from the transition area. I quickly began to pass rider after rider. In fact there seemed to be a tonne of riders on the course. Several times in the first few miles I had to slow down much more than I wanted around corners to avoid some of the slower riders in front of me. After making a right turn to start the ten mile loop of the 'P' the skies let loose and it began to pour rain. The rain even stung a little as it hit my arms. I continued to fly past a number of riders while a few of the 35-39 speedsters from the next wave began to pass me. I was able to keep up with a few of them for about a mile or so but some slow riders and corners meant that I soon lost them. Just before I started the left turn towards the top of the 'P' at about 6 miles I passed a speedy female rider. She returned the favour moments later and I followed her for about a mile. She was going just a little bit slower than I wanted to go but there was to much traffic to easily pass her. Finally on a straightaway I saw my chance and I powered past her and dropped her for good. After passing her the number of other cyclists began to diminish. With less traffic I was able to concentrate on keeping my own pace.
I was trying to keep well hydrated during the bike portion of this race (Although with the rain it didn't really seem necessary) Unfortunately I finished my aerobar bottle by the 12 mile mark. Next time I will have to remember to use an extra bottle. By this time the rest of the bike consisted of a 4 mile straightaway past the entrance to the park where the transition area was and over a bridge, followed by a turnaround and couple mile bike back to the transition area. As I neared the bridge I looked to see if my wife was around. This was the spot that she normally waited for me on the bike but we had agreed that she wouldn't bother if was raining. Amazingly she was there with another lady in the wind and pouring rain they were talking to each other and so I called out as I passed. This was way beyond the call of duty and worth some more major bonus point
for her!!! As I turned my mind back to the race I came upon a group of women on the bridge. Included in the group was Elizabeth a coworker of mine. I said hello as I passed and cruised on in towards the turnaround at the base of the 'P' fighting the wind and rain. After the turnaround I finally had the wind at my back and the next few miles cruised on by at around 27 mph. I was able to pass a few more people on the way back to the transition area. As I neared the transition I removed my cleats and prepared to dismount with a time of 52:58 meaning an average speed of just over 21 mph. Once again I remembered to get my split and stop my bike computer another first. T2 went pretty quick although with all the rain everything including my shoes were completely soaked. Time 1:08
The start of the run was fairly normal for me. In other words pretty heavy legs and a pretty slow pace. On the plus side the rain had pretty much stopped except for a little spitting.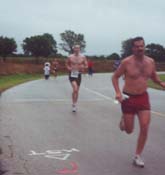 I was cheered by my wife where the run course veered away from the finish line. As I plodded on a number of people from other age groups passed me. By the time I reached the first aid station I was starting to feel a little bit better so I grabbed some water and continued. I hit the 1 mile mark in 8:35 which was slower than I had hoped. I tried to pick up the speed a little but I continued to fall behind other runners. A 25 year old from my age group passed me and I attempted to keep him in sight but he slowly kept pulling away. As I neared the mile and a half mark another runner from my age group passed by. This time I was able to hang on to the runner and I stayed just a few paces behind him. I hit the 2 mile mark in 16:30 which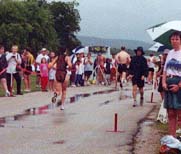 was almost on pace to meet my 25 minute goal. I was able to keep up with my pacer until I hit the turnaround. Stopping and turning was not good for my pace and by the time I had sped up again he was slowly pulling away from me. I continued to plod on and watch the runners going by in the opposite direction. Another lady passed me around the two and half mile mark I determined to catch her and I slowly began to reel her in. As I rounded the final curve towards the finish I began my kick. I soon overtook her and with a quick glance back to make sure no one was closing I cruised on in for a run time of 24:48 and total time of 1:36:15
After the race I grabbed some Gatorade and some of the free Gatorade energy bars. (Note the orange is terrible the chocolate is okay and the peanut butter is pretty good. They taste somewhat like healthy rice crispie squares.) I met my wife and we wandered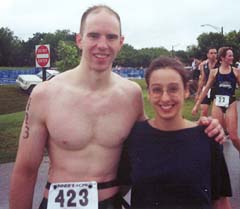 around for a few minutes. Her feet were soaked from all the rain and she had started to get a blister so we tried to keep the wandering to a minimum. We bumped into the guy that I had been beside in the Olympic trials race a couple of weeks earlier. We bemoaned the poor organization of that race and congratulated each other on our finishes. Then as befit the day it began to rain again. Actually it began to pour. With the wind it was beginning to get pretty miserable. My wife and I slowly walked over to the entrance to the transition area to get my bike. Since not all the cyclists had finished we had to wait. We met Elizabeth from the office and grabbed some pictures and talked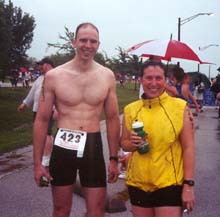 while the weather continued to worsen. By this time I was ready to get into the car and get dry but I didn't feel like walking half a mile to the car and then have to come back later to collect my bike. Fortunately the final rider finally arrived and we were allowed into the transition to get our bikes. I quickly collected all of my stuff and rejoined my wife as we headed back to the car. About 10 minutes later after surviving the harrowing wet and cold trek we arrived at our car where we both toweled off (I was glad I grabbed the extra towel before I left the house in the morning) and then sat in the car to wait for the park to reopen to traffic. It felt great to rest in the dry car. About 20 minutes later traffic began to move out. Normally we would stay till the end of the race but considering the rain and cold we decided that home to a warm shower and bed sounded much nicer.
Overall I was pleased with this race. The swim went much better and I felt much more relaxed when I didn't try as hard. It was a good confidence builder for Alcatraz. My run and bike both met my goals for this race so I was pleased with that as well. I have been doing more hills during my runs lately and that seemed to payoff with my legs not being very sore after the race. As far as the numbers go I ended up finishing 24th out of 64 in my age group and 151st overall out of 525. On the swim I was 243rd overall, on the bike I was 82nd overall and on the run I actually reached the mid pack with a placing of 264 out of 525. It would appear that my work on my run is finally starting to pay off. I guess I will know for sure when I hit the infamous sand ladder at Alcatraz.