Along with the Olympic triathlon trials for the 2000 Olympics was an age group race open to all amateurs. The swim was an open water 800m swim, the bike was a short 10.3 miles (although I think it was actually closer to 9.8 miles) and then a 5km run (which by some estimates might have been as long as 3.7 miles about 6km). I had signed up for this race with the goal of improving my run, completing my first open water swim and maybe a top ten age group finish. My time goals were an under 20 minute swim, under 30 minute bike and under 25 minute run. Through in a couple transitions and I was hoping to stay under 1:15 overall. It was also the first triathlon that my wife's parents were going to see.

My running has been my weakest event so far so I had been focusing much more time on it in the weeks leading up to this race. Probably a little too much as I realized a week prior to the race that I had not done any swimming since my last triathlon in March. With only a week left I was able to squeeze in three swim workouts but this was definately not enough. I will be putting a lot more time into the pool over the next month to prepare for my Alcatraz race at the end of June.

I received a phone call a couple of days before the race from the race organizers comfirming my entry they also told me where I could pick up my race packet. Thus began the pre race confusion. It was rather difficult to get specific information about the age group race such as the actual distances, start times, and where to pick up race packets. The website gave different locations than I had been told on the phone call, and had different information than the original entry form. At any rate I decided to head out to the race expo on Friday evening with my father-in-law to see if I could pick up my packet. When I arrived there were a number of volunteers hanging around and some people setting up tents. I asked about the race packets and was told that I couldn't pick them up then but I could get it the next morning at the Mandalay Hotel. After wandering around a little further we headed home for the evening.

On Saturday morning I got up and headed to the expo around 8:00am. I went to the Hotel that I had been told about the previous evening but there weren't any race packets there either. I was then told to head back to the expo to find them. Finally at the expo I was able to find a tent where they were handing the packets out. I recieved mine and asked how many people they were expecting for the race. They seemed to think that there were going to be around 500 (although they didn't seem to sure) and I was seeded to start in wave 8 which seemed a little odd considering I am in the 25-29 age group and usually start in the earlier waves. After this I headed over to the swim start area where the pro women were gathering for the start of their race at 9:00. With the start still 15 minutes away I decided that I would finish off my other errands for the morning (picking up my lawn mower) and then come back for the race.

Half an hour later I was back just in time to see the last of the women finish the swim and sprint off towards the transition area where they mounted their bikes like they were jumping onto horses and in just a few seconds they were gone onto the bike course. I happend to run into Charles from TNO and we talked for a few minutes. Then I hung around to watch a couple of laps of the bike and left with Barb Lindiquist (who would later drop out of the race) leading by about 2 minutes. After I got home I checked out my race packet to see what instructions had been given. Unfortunately there was nothing. There were a couple of T-shirts and the usual assortment of powerbars, race entry forms and emu oil??? (the strangest item I've ever seen in a race packet) At any rate I was pretty sure that the race was starting at 6:30am so I decided that I would plan on arriving around 5:30am. I gathered up all my stuff the race next day (check lists are awesome ... if you follow them) and packed everything into my car so that I would be ready to go in the morning and then I headed to bed.

I didn't sleep all that well and woke up without an alarm just before 5:00am. I quietly showered and dressed so that my wife could keep sleeping. She was going to come with her parents to watch the race at 6:30am. I flipped on the TV and had my pre race bowl of Fruit Loops. Just after 5:00 I kissed my wife goodbye and started off to the race.

The race was being held nearby so the drive only took about 15 minutes. I love driving in the early morning when there is virtually no one else on the road and watching the sun come up. I arrived at the race starting area just before 5:30am and parked on the first level of a parking garage. There were already a number of other competitors there and I could here the familiar whoosh of people pumping up their tires. I got my bike out and pumped up my tires. I also grabbed everything that I would need for my bike and run. I figured that I would come back for my swim items. Then I realized that I had forgotten my watch! I had left it on top of my clothes that I had put out to wear in the morning and I must have forgotten it in the dark. Oh well I hoped that my wife might see it when she got up and bring it when she came for the start of the race at 6:30. (Next time my watch will be packed into the car the previous night with everything else.)

By the time I arrived at the transtion there were a lot of people setting up their bikes. There were three entrances to the transtion area that were not marked so I just picked one that didn't have a lot of people near it and racked my bike. Then I placed my towel on the ground, made sure my bike cleats were ready to go, and placed my helmet and sunglasses on my aerobars. With my transition area complete except for my running shoes that I was still wearing I headed back to the car to get my swim goggles and to change. When I came back to the transition area I saw Elizabeth from the office who was doing this race with her husband. We talked for a few minutes and she also noted some of the confusion that she and her husband had had concerning this race and the lack of information. She had found out that the times for the wave starts had been posted. I looked at the times and saw that wave eight had been changed to wave 7 and was set to start at 7:30 an hour after the 6:30 start for the 50+ age group wave. Apparently they were doing a reverse wave start with the slowest people first to ensure that everyone was off of the course before the 10:00am start of the men's pro race.

While I waited around for my wife to arrive with her parents I talked with some of the people around me
two of them had driven out from California for the race and were a little disappointed that wetsuits were not going to be allowed in the 80 degree water. Some other people were trying to clean up some broken glass that was scattered throughout the transition area (not good for bare feet or tires) Everyone thought the wave start order was a little strange and an hour between the start of the first wave and last wave seemed a little long. I ran into Charles from TNO again and we wished each other good luck. He was still a little worried about the swim and was planning on doing breaststroke most of the way. As the first wave lined up to start I spied my wife and parents on the other side of the lake. I went over and said hello. She unfortunately had not seen my watch so I was going to have to do the race pretty much blind. Oh well I would just have to go by feel. (Besides the rest of the race had already seemed pretty confusing why not this as well.) I talked with her and her parents and we watched the first wave head out. Without a watch I wasn't sure of the time so I decided that it would be best to stay near the start area to make sure that I heard any last minute changes in instructions. Bidding goodbye to my wife and parents I wandered back over to the start to wait for my wave to begin.
Time really dragged as I waited the rest of the hour for the 0-29 aged males to start. In fact everyone from the previous wave was already out of the water before we were allowed into the water. I was able to watch Charles' wave start and see him start
off with his breast stroke. He actually seemed to be keeping up with people pretty well. When he gets comfortable with freestyle look out! Finally it was my turn to enter the start chute. Some volunteers took down our numbers and let us enter the water to position ourselves near the start bouys. With a 'WHOOOHOOOO' I leapt into the water and did a few strokes to warm up. I positioned myself in the middle back of the pack with the goal of keeping the swim fairly easy. Soon

enough there was a blast and the race was on. Everyone was pretty spread out so there was not a lot of jostling. I tried to settle into a rythm and was breathing on my right side with every stroke. I was hoping to keep my swim under 20 minutes (pretty slow I know but not bad considering my lack of training normally I would be under 15) However within a few minutes I began to get a pain that felt almost like a cramp on my right side whenever I tried to pull with my right arm. I thought that it might be due to breathing on my right side only so I tried alternating but that felt even worse so I decided to stay with breathing on my right only. The water was incredibly murky and I could barely see my hands in front of me. I could on occasion see some bubbles from a swimmer in front of me that I would try to draft off of but in each case after a few strokes I lost contact. I could sense people passing me and it didn't seem like I was passing anyone myself. I found that even with the murky water I didn't have to
sight very often. I am fortunate that I swim fairly straight without out having to look around very much. After what seemed like 5 or 6 minutes I saw some swimmers heading back in the opposite direction. I looked for the turnaround but didn't see anything close by. After what seemed a very long time I reached the first bouy and made the first turn with very little traffic. I headed for the second bouy and soon had rounded that and was headed for home. I was now beginning to tire a little and I felt like I was at the back of the pack instead of the middle where I had hoped to be

(and usually am in the swim leg). I began to look around for the exit ramp and I noticed that I was near to some of the canoes that were watching the swimmers so I may have actually been off course a little although I was never that far away from other swimmers. Finally I reached the exit ramp where several people helped to pull me up the 45 degree ramp. I yanked my swim cap and goggles off and jogged over to the transition while grabbing a cup of water. Time for the swim, unknown.
At T1 I saw my wife and her parents standing near the entrance. I waved and tried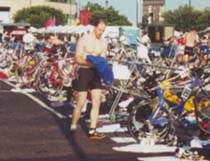 to put on my cycling jersey. It wouldn't go on so I gave up and put on my cleats first. Then I tried putting on my jersey again and this time it went on fine. A quick grab of my helmet and bike and I was off with a pathetically slow first transition. Oh well I was now ready to hammer on the bike. I started up the first gradual hill and heard a clicking sound. I looked down and saw that my spedometer was hitting the magnet on my wheel. I reached down and moved it away but then lost it lost contact and I had no more speed indicator. Oh well considering I had no watch either it seemed to fit the race. I started to crank hard but my legs felt pretty dead. I decided that I must have kicked too much on the swim. It seemed to take a couple of miles for my legs to clear so that I could begin to reel in some of the other competitors. By that point two guys had slowly passed me so I decided to try and catch them. As it turned out I lost contact with them although I was able to pass a couple of other people before the first turnaround. The bike course involved two loops which
gave me time to get used to the course on the first one so that I knew what to expect on the second loop. I passed a few more riders as I finished the first loop but I was surprised that I had not passed more people in my age group. It seemed like everyone that I passed was in the 30+ age groups. The second lap was better than the first although I was breathing pretty heavily and I probably didn't drink enough water. As I neared the end of the second lap I passed someone who tried to surge to keep up with me. I wasn't about to put up with that so I cranked it up a quickly dropped him. As I headed into the finish area for the bike I passed by the end of the run course. It seemed somewhat odd to see all of the older runners finishing up the run course ahead of me since they usually start after my age group. (I guess that this is what it is like at the back of the pack ) I cruised into the end of the bike while taking off my bike cleats and then ran into the transition area with my bike.
T2 was much better than T1 I was able to rack my bike and get my shoes on pretty quick. The only problem was a slight cramp in my left calf as I put my left shoe on. This cramp forced me to sit for a moment to get my left shoe on but as soon as that was done I was on my way out onto the run course.
The run was going to be two hilly loops. This meant that I would have to run by the finish once before I could finish myself. I was very tired as I passed my wife at the start of the run and I thought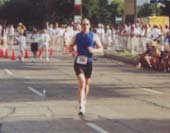 about how nice it would be to stop and walk for a bit. I quickly forced this thought out of my mind although I did slow my pace somewhat to allow myself to recover a little from my bike. A number of runners began to pass me and as each passed I noted the age that was on their calf. All were in the 30+ age group so I decided to not try and keep up with them. The run had two hills. The first went over an overpass and was fairly steep. Any recovery that I had been able to get by the start of the hill was gone by the end of it. I coasted down the other side trying to gain some momemteum. I started to feel a little better and then I rounded a corner and saw the second hill. It was longer and much steeper than the first hill several people were walking this one. I began to grind up the hill and slowly made my ascent. As I crested the top I began to wonder how long each run loop was. As it turned out the rest of the way to the finish was all downhill which allowed me to recover and actually feel quite a bit better as I started the final loop. The second loop went much better than the first. I actually was able to catch up to one person on the first hill and then several more on the second. As I crested the second hill I passed the elder statesman of the course, an 82 year old man who ended up finishing in just over 2 hours ! Wow!!! As I headed down the hill I saw one runner ahead who
was in my age group. I decided that I could catch him and I slowly closed in. As I got to within about 10 feet of him I decided to speed up and surge past him. (What a concept, me surging to pass someone on the run!) As I sped on past I rounded the final corner towards the finish. I was now about a third of a mile away and I decided to try and keep my faster pace to the finish and not allow anyone else to pass me. I was able to pass a couple more slower runners. I glanced behind me and I didn't see anyone catching up so I felt pretty good. As I got within about 100m of the finish I heard some people cheering for someone behind me I could sense that they were catching up. I accelerated some more to try and stay ahead. I entered the finish chute and I could see him sprinting out of the corner of my eye. I cranked it up another notch to stay ahead but he eased past with about 10 meters left. Even so I decided that I would keep it up to the finish and cruised on in just 1 second behind him for a time of 1:19:20.
I was very exhausted at the finish and just stood while some volunteers removed my timer chip from my ankle. I looked around and found Michelle and her parents coming over from the grandstands. I said hello for a moment and then I headed over to the food tent to get some poweraid, water and bagels. I saw Charles who had started in the earlier wave and we congratulated each other. He had survived his swim nicely and was pretty pleased with his time. By this time it was starting to get pretty hot unless you were in the shade so after talking to Michelle and her parents I decided to head over and get my bike. They came with me and soon we agreed to head back to the cars where I would pack my bike and then return to look for some results and then Michelle and her parents could head home for some breakfast and a nap.
After packing my bike I wandered back to the race expo area and looked around a little. I could see the pros signing in and getting their race markings. I heard an announcement saying that the preliminary results would be up around noon so I headed over and watched the start of the pro race. Once they were out of view I decided that I was actually pretty tired so I headed home for a quick shower and some food. I returned for the run portion of the mens race and was able to see Hunter Kemper win the race fairly easily. I also watched the other Olympic hopefuls finish. With the pro race over I looked around for the results. With just overall times posted I was unable to determine how I did on each leg. However I finished 25 out of 48 in my age group and 200 out of 390 or so overall. It was a little slower than the 1:15 that I had been hoping for but I felt pretty good overall with the race. It is unfortunate that the race was not organized in a better fashion. I am used to the races put on by Jack Weiss here in the Dallas area and they are always well run, on time and they always provide splits. A number of people complained about the lack of splits after the race which seems especially odd considering we all had timer chips on. One rumour I heard was that a motorcycle somehow erased all the times at T1, however this seems a little odd to me. At any rate it was kind of cool to race at the same location and time as pros trying to qualify for the Olympics. I'll probably chalk up the race as a learning experience and start getting ready for Alcatraz.