As I watched the Toronto Maple Leaf game on April 29, I also flipped the channel over to the weather channel to check out the conditions for my upcoming race the next day. Temperatures were to be in the 70s and cloudy. A little warmer than I had hoped for my third duathlon of the season but not to bad. As I watched the Leafs lose 1 to 0 I was somewhat disappointed but ready to do my race the next day. I prepared all of my stuff and actually started a checklist of everything that I need for a race with my wife so that it makes things easier in the future. I packed my car with all of my stuff and then headed to bed.

As usual race morning came far to early at 5:00 as I opened my eyes just before the alarm went off. My room seemed a little bright and then I saw a flash of light and a distant rumble... Yes it was lighting!! I quickly got out of bed and headed to weather channel. The radar showed a strong line of thunderstorms heading through north Fortworth. A storm warning was in effect until 6:00AM in parts of the Dallas area. As I grabbed my pre-race bowl of fruit loops, the radar showed that the storm appeared to be heading north and avoiding the race location in south Arlington. So with a bit of trepidation my wife and I got up and headed out in the rain towards the race.

As we neared DFW airport the rain and lightning both stopped leaving a strong breeze and wet roads. As we continued south of the airport the roads got drier. I remained hopeful that the race would not be affected. I pulled out a Clif bar and let my wife nap beside me. As we passed a few car dealerships on the highway I could see the flags blowing in the strong wind. Oh well my plans for a sub 2 hour race might not materialize. I was hoping to complete the two 5km runs in under 50 minutes combined and then keep the 42km bike under 1:10 with a few quick transitions squeezed in. If the wind kept up my bike would likely be slower. This was the same course as I had done in January at the Frost Your Fanny Duathlon with an extra 12km added to the bike. My run times in January were 23:08 and 27:19 so improving my run time seemed like a good possibility.

As we neared the start of the race at Joe Pool Lake there were no signs of rain and the roads seemed pretty much dry. I pulled into the park and all the pylons appeared ready for the race. A few turns later and the parking area appeared with volunteers pointing the way with flashlights. The race appeared to be on! It was now around 6:30AM and it was still dark so I let my wife continue napping in the car as I got my bike out and pumped up the tires. I took my bike over to the transition area to check in and get my race number markings. The rack positions were assigned based upon race numbers and my location was virtually the same as it had been in January. I racked my bike and then looked to see where Charles (from Tri-Newbies.com) bike was located. His bike was not in the transition area yet so I headed back to my car to get the rest of my stuff. At the car I got into my race gear and grabbed my water bottle and bicycle cleats. I headed back to the transition (leaving my wife to nap further :) and put my cleats by my bike. Then I filled my water bottle and attached it to my aerobars. I gave my bike a quick look over, reset my computer and made sure that it was in the right gear. Everything was ready to go. There was now a steady stream of competitors arriving in the transition area and I recognized several from previous races, but I still didn't see Charles.

7:00AM rolled around so I headed back to the car to get my wife who was already heading towards the start of the race. We walked around the start area a little bit and then I sat down to stretch out my legs. There was still no sign of storms near the race but the wind was staying strong which kept the temperature cool. Once I was done stretching I took my wife over and showed her where my bike was in the transition area. We turned around to wait for the start of the race and saw Charles. I went over and quickly introduced myself. We wished each other good luck in the race and then headed over for the pre race meeting.

At the pre race meeting

the race director Jack Weiss told us that there were no forecasts of storms in the area and that the race would continue even if there was rain as long as there was no lightning. After a few more instructions about the course and some anti-drafting talk it was time for the first wave of competitors to start. My wife gave me a good luck kiss and I headed over to start along with everyone else under the age of 39. With a quick blast of the horn the race was off!
I had lined up on the right side of the start so that I could see my wife as I started. I ran past her as she snapped some pictures.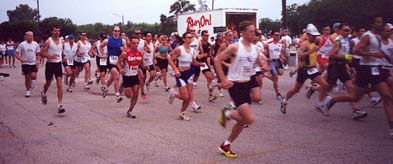 As I rounded the first corner I settled into my normal run pace where it seems like everyone around me is faster. For the first half mile a lot of people passed by me. It was somewhat disconcerting but I figured that I was running my race and I was trying to keep the first mile slow besides I would catch up later in the race on the run. Most of the first mile was into the wind and it was strong enough that I could see some women trying to draft behind some of the larger males. Despite the wind I passed the first mile marker in 7:01. This was right around the pace I was hoping to keep for the rest of the first 5km and for the next mile and a half I would have the wind at my back. By this time Charles had steamed on ahead and was almost out of sight. Around the mile and a half mark the speedy over 40 runners who had started in a later wave began to stream on by.

This second wave of people passing me slowed in volume as I reached the 2 mile marker

with several people closely following me. My two mile time was 14:10 which meant that if I kept the same pace I would set a new 5km PR. The last mile was pretty uneventful. I felt pretty good and was staying ahead of the runners just behind me. Just before I reached the turnaround I saw Charles coming back a minute or so ahead of me. I headed into the first transition with a time of 22:32 a new 5km PR. So far so good.
I had practiced leaving my bike cleats clipped into my pedals and putting my shoes

on after I was on the bike the day before the race. I didn't like the feel of it as it took too long to get my feet into the shoes so I opted to put my cleats on in the transition area.

This was done in around 1:30 (I forgot to stop my watch until I was out on my bike) I had originally been hoping to finish the 42km bike in under 1:10 but with the wind I wasn't sure how likely that would be so I decided that I would hammer and see how fast I could go. The bike course involved riding north and completing a loop twice and then after the second loop heading south across a bridge for about 3 miles to a turnaround where we would head north and back to the transition area. This meant that I had a tailwind for the start of the race. I quickly began to pass some of the slower riders and was only passed by one rider. At first the wind didn't seem that strong. It wasn't until I turned right to start my first go around of the loop that I noticed how wrong I actually was. I was able to pass a number of bikes in the first 5 miles. I then caught up with Charles and gave him a greeting as I went on by. As I finished the first loop I finally caught up with the guy who had passed me earlier and the I passed him for good.
On the second loop I began to play leap frog with one of the female riders. She would catch up on the straightaways and I would pass on the hills. This continued for several miles with her and another fellow that the two of us caught up with. At one point when both of them were ahead of me I noticed that a car had been able to get onto the course. The driver was only going around 20 miles an hour and there was a cyclist that was right behind them. Finally the cyclist went into the left lane and passed the car. I soon caught up and was preparing to pass the car myself when it turned off onto a side street. Whew, there was an official on a motor bike coming up behind me and I wasn't sure what the rules were on passing cars :) Once the car was out of the way I was able to concentrate on leapfrogging the two cyclists again. With a strong effort I was able to drop both as I neared the end of the first loop. As I rounded the last corner I found one of the areas that I need to work on, cornering. It seemed that I would lose ground on every corner as I braked to much. I really need to work on keeping my speed around corners. As I sped on towards the out and back across the bridge I looked behind me and saw that the woman that I had passed was maintaining her distance, and the guy I had passed was closing the gap. Just before the bridge the guy passed me and I saw his age on his leg, 53. Wow pretty impressive. As I reached the bridge I took on the full brunt of the wind.

I was getting tired and I looked for my wife and sure enough there she was! I called out hello and thus encouraged pressed on. Once I had crossed the bridge I saw some riders returning the other way as it turned out these were actually the race leaders. While continuing to pedal into the strong wind I kept looking for the turnaround my time was around 55 minutes so I figured that I still had a shot at my goal time. I kept labouring through corner after corner but the turnaround just didn't seem to appear. Finally after barely keeping up 15 miles an hour into the headwind the final turn appeared. I saw my 53 year old competitor already heading back to the transition and soon enough I was rounding the turn and with the wind at my back I was ready to cruise on home. I was quickly up to 30 miles an hour. Tailwinds sure are fun! On the way back there was a downhill just before the bridge. Here I saw one of the reasons roadies mock Softride owners. Labouring up the other side of the hill was someone on a Powerwing. They were obviously mashing their gears and with every push the were bouncing up and down. I had finally seen the infamous 'bobbing' or 'pogo' effect of Softrides. I had heard about it but I had never had that problem with my Softride so it was rather amusing to finally see it in a race!
With the bike almost over I returned to the park where the transition area was. As I passed the run course I could see the lead runners reaching the turnaround and heading back to finish. I reached down and pulled my feet out of my cleats before the transition and cruised on in to park my bike. The woman that I had passed arrived at our rack just as I was putting my running shoes on. I congratulated her on a good bike and we both headed out of the transition together. The race clock read 1:40 which meant that I would need to run a 20 minute 5km to meet my goal!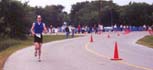 My wife called out to me as I rounded a turn onto the course that I would have to have the run of my life. I nodded and pressed on however my pretty much new that I wasn't going to meet my goal. Since I couldn't meet my goal of under 2 hours I figured that I was just try and keep my run under 25 minutes to beat my previous time of 27:20 on this course for the second run. I took my second Clif shot as this point. I remain amazed at how good this stuff can taste during a race. I was feeling fairly tired by now but by half a mile my legs had mostly gotten over the bike and were into running mode. The woman I had passed on the bike was now a good distance in front of me and as I looked behind me I saw that I had a good quarter mile or more lead ahead of anyone else. The first aid station arrived and I gratefully grabbed a drink of water. I tried to keep a steady pace and hit the first mile in 7:53 pretty much on pace for a 25 minute run. Just a few metres later I heard some footsteps as some quick runner bounded past me. There was no chance of me keeping up with him so I just kept my pace. Moments later a couple of other runners edged past as well keeping up a pretty good pace. I continued to plod on.
As I closed in on the mile and a half mark I came upon the only person that I passed. The age on her calf said 65! Apparently she was doing the short course (2 mile, 10 mile, 2 mile) I told her that she was looking really good and she returned the compliment. A minute or so later another runner passed by me. I could see that his age put him in my age group. I tried to speed up a little but he quickly outpaced me. Moments later another runner in my age group passed on by and I could sense any chance of an age group award slipping away (Although with my times an award would be a real reach :) One more runner in my age group passed me as I reached the T that lead back to the finish line. My wife was waiting there and she encouraged me to speed up for the last mile and then sprint to the finish! With this encouragement I tried to keep up with the last runner that had just passed me. This effort kept up for about a quarter mile when my legs began to give out. At that point I began to think about how cool it would be to have the speed to surge ahead and drop him. Instead reality hit as my right hamstring was starting to
feel the effects of the hammering on the bike and my pace began to slow. I rounded the last turnaround before the finish and began the last part of the run. As I neared the T where I would turn in towards the finish I passed by Charles again. We greeted each other and then I began to concentrate on a final kick to the finish. As I rounded the second last corner I looked behind me to make sure that no one was closing in and then I began my sprint. I steamed into the finish gasping with every step and finished in 2:06:55
I looked around for my wife and she said that I had done pretty good. I was feeling fairly decent with my performance but I was feeling very thirsty so we headed over to the food tent to down some Gatorade and bagels. On the way over I saw the woman that I had leapfrogged on the bike. I congratulated her on her bike and she gave me a high five. It turned out that she was the third woman overall finishing just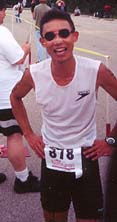 3 minutes ahead of me. After I had drunk a number of glasses of Gatorade I looked for some water. We headed towards the transition where they had the water and we were able to catch Charles just finishing his race looking a little tired but happy.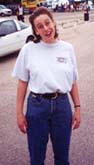 As he headed off for some food my wife and I grabbed some water and wandered around the park area for a little bit. (But not before I finally got a picture of her!!) Both of us then headed for the car where we could sit for a little bit. After resting and changing my shirt we headed back to the finish to await the awards ceremony. The awards ceremony went by pretty quickly. They first gave out the awards for the short course where the first place finisher had a time of 1:00:10. Then they gave out the awards for the long course. In my age group first place was around 1:47:00 and third place was 1:55:00 or so.
Overall my time was 22:32 on the first 5km a new PR good for about 75th overall, 1:18:28 for the bike and both transitions (assuming around 2:30 for both transitions that means that I averaged about 20.5 mph which is pretty good considering the wind) good for 30th overall and 25:56 on the last 5km good for about 100th overall. My total time was 2:06:55 which placed me 49th out of 129 overall and 9th out of 13 in my age group. I was very pleased with my bike and a little disappointed with my final run. Overall I think I did fairly decent on this race especially considering it was my longest to date. After examining the results of the race I was also able to figure out why I wasn't able to keep up with anyone on the final run. My bike was good enough to move me up into the front of the pack where everyone tends to be a good runner and thus much faster than me. In fact virtually everyone that finished around my time was 2 to 3 minutes faster than me on the final run. Oh well just something that I still need to work on. All in all it was a well run race that was very enjoyable.