April ninth dawned as my second duathlon of the year. It would also be the first one without my regular support crew (AKA Michelle my wife) however Chris from TriNewbies.com was also doing the race so we were planning on getting together at the race. The Arlington Dannon duathlon was going to be a 5km run, 30km bike and another 5km run. I had previewed the course on Saturday after picking up my race packet. The bike was an out and back and pretty flat. The run was also an out and back that was pretty flat except for a massive hill about a quarter mile into the course. After seeing the hill my plans for getting a PR on the run appeared to be unlikely. With this in mind I set the goal of keeping my runs under a combined time of 50 minutes and then hammering the bike (as usual:) ). Hopefully this would allow me to improve on my previous best time at this distance of 1:46:26.

I awoke just before 5:15AM I took a shower and then flipped on the TV for the local weather. The forecast was sunny with a high of 70 but the current temperature was a nippy 45. I decided that it would probably warm up before the start of the race so I opted to go with shorts. I munched down a Cliff bar and had a glass of water then I then headed out to the car which I had packed the night before. (I highly recommend this as I am not usually awake enough to remember everything the morning of a race)

The drive to the race was uneventful and short. It only took about half an hour to get the site in Arlington. I arrived a little after 6:00AM leaving me with just over an hour to get ready for the race. As I got my bike out of the car and checked it out I realized how cold it still was. Even in jeans and a sweatshirt I was shivering. I took my bike to the transition area and got my race marking which consisted of my age written on the back of my left calf. This way I could tell when all the 40+ year olds were passing by me on the run :) After racking my bike in the assigned position I looked to see where Chris' bike was. There was no bike there yet so I assumed that he had not yet arrived. I wandered back to my car to warm up and get my timer chip on. By the time I had attached the timing chip to my ankle the sun had just peeked over the horizon and I decided that I would take another look for Chris.

I headed to the transition and Chris was there setting up his bike which he had rented for the race.
It turned out that he got a decent used carbon fiber road bike complete with aerobars and Shimano 600 components (which I think translates to the current Ultegra level components) all in all a great bike for a rental. Chris introduced me to his wife Jen who was really sweet and had her camera all ready to get some shots of the race. We talked for a few minutes and looked at the pro's bikes and then around 7:15 we separated to get ready for for the race. I stopped by the car to take off my sweatshirt and jeans. I opted for the long sleeve cycling top and at the last minute I figured I would take some gloves so that my hands wouldn't freeze on the bike (Thanks for the Christmas gift Mom!). I stretched for a few minutes and then headed over towards the starting line to watch the first wave of pros start the race. The race organizers played the national anthem and moments later with strange sounding beeps the race started.
The race was split into three waves. The 17 pros left together in the first wave. The second wave was everyone under 40 and the third was 40 and older. As I watched the pros head up the first massive hill I lined up with Chris said good luck and then we were off. I started near the back of the pack and I quickly ran around a few runners to position myself near the middle of the pack. The first quarter mile was easy and then we rounded the corner and headed up the hill. Even without a heart rate monitor I could feel my pulse speeding up as I shortened my stride and climbed on up. It reminded me of running up some mountains the previous year in Banff. The grade soon dropped off and then mercifully the hill ended. I didn't feel to bad but I knew that I would feel it on the second run. Just after the hill Chris caught up to me and said 'Hi'. I greeted him and we continued on. At about the 3/4 mile point two of the lead pros came by running neck and neck. I rounded a corner, headed into a residential area and saw the aid station at the one mile mark. At this point a couple of the speedy over 40 runners (boy are they fast!) sped on by. I checked my mile split and it was 7:30 about where I had hoped considering the hill. Chris had backed off a little behind me and I began to look for someone to try pacing off of. In around 12 minutes I hit the turnaround and headed back for home. A couple more people passed by at a fairly quick pace. Finally a girl slowly passed me so I decided that I could hang on to her pace. We soon passed by the first aid station again. A few turns later the hill appeared on the horizon but this time it was okay because I was going down not up. I just let it rip like I was a kid running down a hill. I flew past a couple of people and then headed for the transition area. As I reached the transition I checked my watch for a time of 22:47 a new 5km PR. Cheered by this I ran to my bike and slipped into my bike cleats. By this time things were warmer and my hands felt pretty good so I opted to leave my gloves in the transition. This way I would find it easier to take my cleats off as I finished the bike to speed up T2. I tried this in my last race with my gloves on and I was unable to undo the straps. I grabbed my bike and jogged to the exit. Time for T1 was 1:02.
I quickly got up to speed on my bike and began my familiar pattern of reeling in all those speedy runners who whizzed by me on the run. Soon I lost count of the people I passed as I was keeping up around 24 MPH. The course was mostly on country roads that were pretty rough for the first few miles (Thanks goodness for my Softride and its suspension) Around mile 3 or 4 the only person to pass me headed on by. The course did not have any major hills however I attacked the few rises that there were and found that I could catch up to people if I kept pedaling hard until after I reached the top of each rise. The first half of the bike was pretty uneventful. I thanked a number of the police officers that were blocking traffic for us and I kept on passing people. I reached the turnaround in about 24 minutes. I thought this was a pretty good time until I realized that there had been a tail wind for part of the trip. This realization came quickly after I turned around and headed into the wind. The return to the transition had several sections that were going straight head on into the wind which had picked up since the start of the race. Around mile 13 I began
to tire a little and one cyclist that I passed slowly eased on by me. I rested for a few moments and then remembered that my wife would have encouraged me to speed up so I did. I re-passed the cyclist and then set my target on a pack of 6 or 7 cyclists up ahead. I slowly reeled in the group ahead of me and got by all of them. Just after this effort was complete I made a right turn back straight into the wind for the last two and half miles to the transition. After just a few minutes I caught up with a group of about 4 more cyclists. I wasn't sure if I wanted to push myself past them but I thought of what my wife would say... One word 'Hammer!' so I sucked it up and cruised on by the whole group. As I neared the transition area I reached down and took off my right and then left cleats and pedaled on top them to save time in the transition. When I rounded the corner into the transition there was a photographer the taking pictures of everyone. I'm sure I will get a really silly looking picture with me riding in my sock feet on top of my shoes. Oh well. I finished my bike with a decent time of 52:36 for an average speed of 21.25 MPH a little slower than my split would have suggested but not bad considering the wind.
As I jogged to my rack to replace my bike I had to pause for a moment to decide where to place it since a gorgeous Kestrel KM40 (what a shame it was a gorgeous bike) had fallen down on the other side of my rack and was blocking my bike. I wasn't sure what to do so I placed my bike on the far edge of the rack right beside mine. Then I slipped my shoes on (elastic laces are great) and headed out onto the run. Time for T2 was :52.
At this point I took my first gel of the race. It is amazing how much better they taste during a race! My legs were feeling pretty tired and my right hamstring was aching a bit from the effort on the bike. A quick glance at my total time showed that I could beat my PR if I could keep the run under 30 minutes. By the time I reached the bottom of the first hill the pack of cyclists that I had passed at the end of the bike had all passed on by. I staggered up the hill and actually considered walking for the first time in a race (other than aid stations when I was feeling lazy in my first triathlon) Instead I sucked it up again and shortened and sped up my stride and continued as I felt my heart rate shoot up again. The hill seemed a little longer this time and reaching the top felt really good. I slowed a little to catch my breath and I could see the last person from the cycling pack about 50 feet in front of me so I decided I would try to catch him before the end of the race. With some renewed enthusiasm I raised my pace a little however I did not seem to catch up with him very much. I reached the first mile with a 9:30 split. This was rather slow and I knew that if I didn't speed up my PR might be in jeopardy. I grabbed a cup of water and continued my quest to try and catch the runner in front of me. I reached the turnaround in 13:40 which meant that if I could just keep this pace I would finish with a new PR. However I seemed no closer to catching the runner in front of me than I had been at the first mile. A few minutes after the turnaround Chris called out 'Looking good, keep it up'. I tried to reply with something but I'm guessing it probably came out as some sort of unintelligible grunt since I was feeling quite tired at this point. (The second run in a duathlon seems brutal) Chris was looking pretty good. He had been hoping for under 2 hours for the race and he appeared to be ready to easily crush that goal. I continued my quest to catch the elusive runner in front of me but my right hamstring was still not feeling great and every time I tried to increase my stride rate nothing seemed to happen. My legs just didn't have much gas left in them. As I reached the 2 mile marker I started my last attempt to catch the runner in front of me. I actually gained a little on him but this attempt soon sputtered out as my legs refused to keep the pace. I looked at my watch and saw that I was just over 20 minutes I figured that I could still have a shot at staying under 25 minutes which was my pre race goal so I soldiered on. As I neared the hill I looked behind me and saw that there was a good 100 yards or so between the next runner and I. I took this descent a little easier than the first one since I knew my legs were not up to the full tilt, let it all out approach. I probably went a little to easy since as I reached the bottom the people who had been far behind me caught up and passed me. They seemed to have a pretty good kick but with the finish line in view I tried to start mine in order to keep up. Nothing happened. My legs just kept churning at the same pace. I tried again and even though I was breathing harder I just had no gas left and my legs refused to accelerate.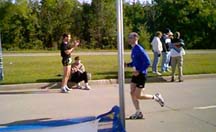 I continued churning into the finish thinking that if my wife was there her first question would be why hadn't I sprinted into the finish ;) My reply as usual would be that I was sprinting it just wasn't very fast ;) My second run was a decent (for me anyway) 25:27 for a total time of 1:42:42 a new race PR by 4 minutes. One of the volunteers grabbed my race tag and another kindly reached down and took my timing chip off. (A good thing since if I had tried I probably would not have been able to stand back up then) I received a bottle of water and guzzled it down as I walked around and cooled off. I glanced around for Chris' wife Jen to let her know that Chris was just a few minutes behind but I didn't see her anywhere so I just waited for Chris. He finished in a fabulous time of 1:46:42 destroying his goal of under 2 hours.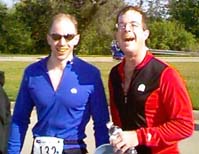 Jen came over and took a picture of us and then we headed over to the expo to get some food.
The expo had some Cliff bars (Yumm they are the only energy bar I know that actually tastes like it is real food.) I grabbed a new flavour apple/cranberry/cherry that tasted great. There was also some of Mrs. T's Perogies which I have never had before but they also tasted great. Then there was the more usual post race fare such as bananas and other fruit along with water and sport drinks.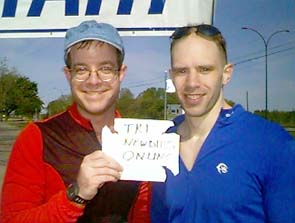 Chris, Jen and I chatted for a little while as we wandered around and then Chris had the idea of taking a picture of us with the TriNewbies.com logo on a card so we could get onto the website (insert a shameless plug here ;) ). We hunted down someone with a marker and then Jen took another picture of us. Chris and Jen had lunch plans so we said goodbye and they headed off. I decided to stay for the awards so I wandered around for a while longer drinking more water and eating more Cliff bars and perogies (yummmm).
Soon the pro cash awards were announced. The male winner who was also last years winner finished in 1:16:20 for a prize of $1000. The first female pro who had also won the race the year before finished in 1:27:54. First in my age group had a time of 1:28:16 3rd was 1:33:49 so I was less then 10 minutes out of the awards which is another improvement. Overall I placed 79 out of 159 and was 8 out of 17 in my age group. My bike split was 42nd and if you ignore the 17 pros I was 25th which I was pretty pleased with. My combined run total was 48 minutes which was well under my 50 minutes goal so overall the race was successful. It was also really cool meeting someone from the TriNewbies newsgroup especially since my wife was unable to make the race :(. I still have to work on my run but I must say that the second run on the duathlon seems much harder than the first to me. I do a lot of my running on treadmills and I now realize the need for raising the incline to simulate real road running. My hamstrings were both quite sore after the race and I am pretty sure that it comes from this. I'm going to try this for the training on my next race and see if that improves the second run.