The Metroplex Du 2 Du was the second duathlon of the 2001 season. A 5km run, 42km bike, 5km run race that I had completed the year earlier in 2:06. My goal this year was to get a new PR on the race likely around 2:03 optimistically I was hoping for under 2 hours. Chris from Chicago who had done the Arlington Dannon Duathlon in April 2000 was going to be doing this race so we made plans to meet.
Race day morning came early as usual. After a quick breakfast of oatmeal

and orange juice Michelle and I were out of the house by 5:45am. We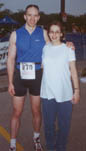 got to the race site by 6:15 and followed the trail of cars into the park. Only triathletes would cause traffic jams at 6:00am. After parking Michelle dozed in the car while I slowly got my bike ready to go. As I pumped up my tires I noticed the strong breeze which would likely slow my bike. Soon enough it was time to head to the transition area. After wandering around the transition area we found Chris and his wife with his sweet red Rocketwing. Moments later we had the pre race speech and it was time to race.
After lining up with Chris in the middle of the pack the race started

and we were off. My goal for this race was to keep the first run fairly easy around 23 minutes,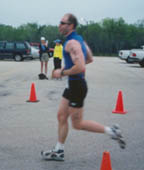 fly on the bike and then push myself on the final run hopefully keeping the time under 25 minutes. As I neared the first mile marker I could see that even while trying to go a little slower I had still overdone things as my time was around 6:45 I slowed a little and hit the second mile marker in 14:10 a little more reasonable time. At this point I saw Chris coming back from the turnaround about 30 second ahead of me. I cruised into the transition feeling pretty good with a time of 22:50 a little slower than the previous year but right on target for my overall time goals.
The bike was two loops followed by an out and back across a couple of bridges.

I could sense that the wind was pretty strong however it never seemed to be a full on headwind, instead it was mostly a crosswind which made things go a little easier than the previous year. As I finished the first loop I realized I still had not seen Chris anywhere. I kept pumping and felt pretty good. I finished the second loop and headed for the last out and back into the wind. There was a small group of riders that I finally passed over the first bridge and then I could hardly see any riders ahead. Just before the turnaround I saw Chris coming back. We waved to each other and I tried to pick up the pace a little to catch him. Coming back with the wind was easier however there were very few people around me. I geared down a little as I neared the transition area and spun my legs a bit to get ready for the run.
I hit the transition area in 1:12:37 good for an average speed of right at 22 MPH not bad for a windy day. After a quick transition of around 30 seconds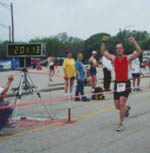 I was back on the course for the second run. With my hip not feeling to great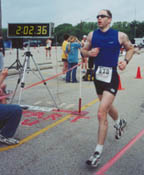 I had not been doing a lot of running so I was not sure what to expect. I cruised past the first mile with requisite number of people passing me. Just after the two mile marker I saw Chris coming back. He didn't seem to far ahead so I tried to pick up the pace. I hit the turnaround and could see that I could still beat the previous years time. I huffed and puffed towards the finish as I tried to keep other people from passing. As I rounded the last corner I looked back and saw no one else near that could challenge me with a sprint finish. I still tried to pick it up a little but was starting to feel pretty tired. I finally cruised into the finish with a time of 25:33 a little slow but not too bad.
After the race I met my wife and we hung out with Chris and his wife while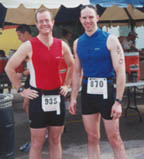 we eat some bagels and had some drinks. During talking it turns out that Chris was slacking on the run until he saw me just before the turnaround. What a sandbagger :) Once the last runner was out on the course we were allowed to collect our bikes which we did and then we headed out. The results show that I finished 26 out of 153 on the bike just behind Chris who was cruising. My runs were slightly better than the previous year so I was very pleased with the improvement. Overall I was 57 out of 153 and 9 out of 15 in my age group a pretty good placing for me.