March 18th arrived as the day of my first triathlon of 2000. Feeling reasonably prepared I was eager to get the season started with an easy spring Triathlon. The race was in Athens Texas about 2 hours south of Dallas. It was a 300m pool swim, 12 mile bike and 5km run. My goals were to improve from my previous races and I was tentatively planning for an under 6 minute swim, under 35 minute bike and an under 25 minute run. Throw in a couple of minutes for each transition and I was hoping to stay under 1:10 for the race. A cold front moved into the Dallas area on Friday giving lows in the low 40s and a forcasted high in the 50s for race day. After doing an outdoor swim at a local pool I realized how cold the bike could be. So preparing for the worst on Friday night I began to plan for cold weather on Saturday. To save time in the morning I also packed all my stuff and actually put it in the car so that in the morning I wouldn't have to grope around in a sleep induced stupor looking for stuff that I might need for the race. Once my stuff was ready to go I set the alarm for 5:00am and headed for bed.

As usual I awoke several minutes before the alarm and just lay in bed not wanting to wake my wife up too early. Within a few minutes the radio came on I started to get ready. I checked the weather forcast and it now said that not only was it going to be cold but there was also a 40% chance of rain. Great a triathlon in 40 degree weather with rain. I thought that I had finished my cold weather races with the Frost Your Fanny Duathlon in January. Oh well maybe it would be warmer 2 hours south of Dallas at Athens. I grabbed some cereal (Fruit loops mixed with raisin bran Yummmm what can I say I have somewhat weird tastes in food) and a Powerbar and I was ready to go. By 5:30 my wife and I were on the road headed to Athens.

The drive to Athens was uneventful. My wife was able to rest for part of the trip and there was no rain while we were driving. We reached Athens by 7:30 and the day just seemed overcast with no threatening clouds to be seen. We parked the car and headed into the local YMCA to check in. As we walked in it also seemed much warmer than it had been in Dallas at 5:30. The check in was quick and painless and soon I was checked in and had my race numbers drawn on my right arm and leg for the swim. The race was seeded by estimated swim times and my number was 126. This worried me somewhat as I figured my estimated swim time of 5:45 would be a little above mid-pack. Either the race must have 300 people or else there must be a lot of people faster than myself. Oh well either way it would just provide more people to pass on the bike leg.

My wife and I got all my stuff out of the car. I reset my bike spedometer and set the bike in the right gear. By this point it was warming up a bit more and so I decided to opt out of wearing long cycling pants for the bike and run and just go with the bike shorts for the whole race. I entered the transition and picked a rack and proceeded to set all of my stuff up. I had my bike shoes with the straps wide open, then on top of my running shoes (with elastic laces for this race) I had my race number, my cycling shirt, and a towel. Just beside that I had my helmet with gloves in case it was still cold when I finished the swim, and my sunglasses. Everything was set for the race. I joined my wife and we went to the pool where I stretched things out and got ready for the start of the race. After a quick pre race meeting the triathlon started at just after 9:00 as the first swimmers headed off.

We were going to do 12 lengths of a 25m pool for the swim so swimmers were started at 10 second intervals to try and prevent any major pile ups. With so many people in the pool at the same time passing would be difficult. I did some math (actually it was my wife, I really wasn't thinking about much at this point. What would I do without her?) and since I was 126th it would be around 20 minutes after the start of the race before I would start. (Asuming that not all numbers ahead of me were in use) This left me with some time to watch the faster swimmers. I was fascinated by the flip turns. I really need to learn how to do these but every time I try I end up facing the wrong direction afterwards. Oh well by the time the 40th swimmer had started most were no longer doing flip turns any more. As number 68 reached the opposite side of the pool I decided I would get into line for my start. My wife gave me a kiss and said that she would see me out on the bike and run where she would grab some pictures. (She is the best support team a triathlete could have!) I got into line and then someone called out my name. It was Elizabeth a co-worker who was doing her first triathlon. She was a little nervous but since she had already done a marathon I told her that this should be pretty easy for her. I quickly met her husband and then got back into line. A minute later I was standing in the pool ready to start my swim. I joked with the lady behind me that I hoped that I could stay ahead of her and that I would try not to slow her down. She laughed and said that she didn't think that was too likely. Then the timer said go so I hit my watch and I was off.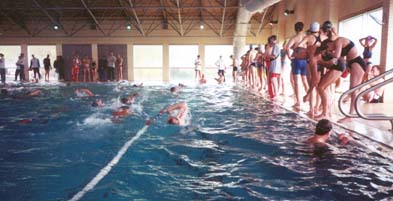 The first two lengths were okay and I felt pretty good. As I turned I could see some distance between me and the lady behind me so I seemed to be keeping a good pace. One the third length I started to run into people ahead of me. Somehow I was able to power past them and keep on going.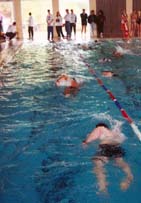 I had to slow down again a lap or so later as there were a couple of people bunched up in front of me I could also feel someone on my feet by this time. I put my head down and powered towards the side of the pool and somehow passed them. I turned and headed back the other way and was able to pass yet another swimmer. From there on I finished without noticing that I passed anyone although I still felt the occasional tap on my feet. I hoped that I wasn't slowing the person down, I had already passed a number of people and I couldn't go much faster. I reached the end of the swim and climbed out of the pool eager to see my time.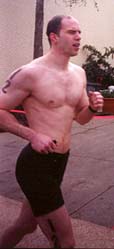 Doh! I had hit the lap button on my watch not the start button and so my watch still read 0:00:00 I hit the start button and figured that I would figure out my swim time by subtracting from my finish time.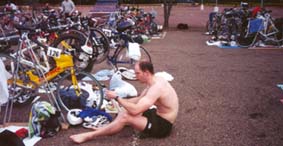 I jogged into the transition area and toweled off. As I put on my shirt and shoes my wife took a picture and called out good luck. I told her that I felt good and then grabbed my bike to head out onto the course. I hit the lap button and started my bike odometer as I exited the transition.
My legs felt pretty good as I headed out onto the course. I passed several people by the first corner, and then several more as I rounded the next one. Originally I was going to count the people that I passed on the bike but by this time I had already lost count so I gave up on this and figured that I would just count those who passed me. The bike course wound around some pretty bumpy streets in town until it hit the highway were we did an out and back which was about 5 miles each way. On the last street before the highway I saw the first racers heading back to the transition. I had started about 20 minutes behind them and a quick glance at my odometer showed that I still had around 11 miles to go which meant that I was now about 30 minutes behind. Oh well I decided that I would concentrate on passing as many cyclists as I could. I rounded the corner onto the highway and I could see that it had a number of rolling hills. I had not done a lot of practice with hills however I figured that I would try to spin up the hills and then hammer going down. This seemed to work as I flied past a number of other racers. There was a slight headwind and when I reached the turnaround my bike time was 18 minutes. I was aiming for under 35 minutes total so I would have to speed things up a little on the way back. With the wind at my back this proved to be fairly easy. I was easily going 26 mph on the flats and up to 40 mph on the downhills. It was soon time to head off of the highway and back through town towards the transition. I went around several corners thanking the volunteers and police officers for being there and then as I reached one corner
I saw my wife standing there. I called out to her and she waved back. Then just a turn or two more and I was back at the transition. No one had come close to passing me so I felt good about the bike. I racked my bike took off my helmet and shoes and slipped into my running shoes. (The elastic laces work really well for quick transitions) I headed out of the transition with a glance at my watch. I had had a 34:30 minute bike and 30 second transtion. I had secretly hoped for a little faster bike but considering the hills and slight wind I was very happy (and as it turned out afterwards the bike was actually around 12.4 miles).
The run followed a trail that went across a small bridge and then headed up hill into some trees.

My legs felt pretty good and amazingly enough I actually passed two or three people heading up the hill.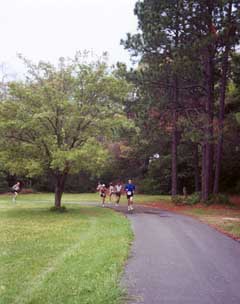 This is not normal for me on runs as usually all the people I pass on the bike start to pass me. After I got through the trees the trail went to the left and circled up around another hill. I passed another runner up the hill and saw my wife at the top where I said another greeting and told her I would see her at the finish. (Have I said what a great support she is?) I started down the hill and the towards a turn that led to a long straightaway that continued towards the turnaround. I was almost hoping for someone a little faster to pass me so that I could pace off of them however the first person to pass was a woman who I had passed near the end of the bike that was just screaming by. I had no chance of keeping up with her. A minute later a guy slowly edged by me and I saw my chance. After he had passed I sped up a little to keep up with him. by this point we had started down a path towards the run turnaround. I kept seeing runners coming back in the other direction and kept hoping that I would see the turnaround. Then as we crested yet another hill I finally spied it. I cruised in and grabbed some water and walked for a few seconds as I drank all of it. Then I started back home to the finish. My pacer had gotten about 50m in front of me and seemed to be speeding up. I opted to just keep my pace and try to keep people from passing. I kept hearing what sounded like footsteps behind me but when I turned around there was no one there. I realized that it was the noise from the spare inner tube that I had put in the pocket on the back of my cycling jersey bouncing as I ran. Strange incentive I suppose but it seemed to cause me to speed up as I kept thinking that someone was gaining on me. One more person did pass but once again they just screamed past and I didn't have much hope of keeping up. As I neared the end of the straightway I saw Elizabeth from work. She looked pretty tired and asked how far the turnaround was. I told her that I guessed about half a mile and then we both continued on. As I finished the straightaway and rounded the turn to head up the last hill I could see a woman behind me that was starting to close in. I decided that I would try to keep ahead of her. I increased my pace a little and headed up the hill. I glanced a couple of times and she seemed to be about the same distance away.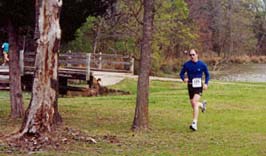 As I headed down the last hill towards the bridge I opted to just try to keep the same pace reasoning that if she did catch up I should have more energy for a strong kick to the finish. I reached the bottom of the hill where the bridge was and I could see the finish line. I cranked into high gear and sprinted towards the finish. With a flourish I finished in 1:26.

After subtracting the 20 minute staggered start that left me with a time of 1:06 This was 4 minutes under my goal and meant that I had had a swim around 5:30, T1 2:30, Bike 34:30, T2 :30, run 23:30. This was a great improvement from my previous triathlon and my fastest 5km run ever off of the bike. as I averaged under 8 minute miles.
After the race I went to the drink stand and had some gatorade and then a glass of water. Michelle and I waited to see Elizabeth's finish. As we waited a woman called out saying thanks. As I looked around I saw her on the other side of the finish line. She was the lady that started right behind me in the swim. It had been her that had been tapping my feet during the swim. She saw the people slowing in front of us and when I started to pass she decide to draft me and pass as well. Wow someone actually drafting me. Anyway she thanked me for passing the other people since she normally wouldn't have done that by herself. A few minutes later Elizabeth came flying into the finish looking tired by happy to be done. Michelle and I wandered around for a little while and then we went to the transition area and collected my stuff and put it back in the car. The awards ceremony started at 11:45am we joined the rest of the people and listened as they gave out all the awards. First place had a time of 54 minutes. 3rd place in my age group had 59 minutes. So I have improved and with a bit more work I should actually get close to competing in my age group.