Athens Texas was the location of my first triathlon of the 2001 season. The race was an easy sprint with a 300 metre swim, 12.5 mile bike and 5km run. I had competed at the same race one year earlier and the goal for this year was to improve on my previous finish. My swim times had been reducing during the winter as I put into practice some of the Total Immersion swimming techniques so I was hoping to save 20 seconds on the swim. On the bike I was hoping to save another minute or so and see how close to a top 10 finish I could get. The run I hoped to keep pace with my previous time. Overall this meant I was hoping for a reduction in time of around 2 minutes.

The morning of the race my wife Michelle and I got up just before 5:00am in order to leave by 5:30am for the 2 hour drive to Athens. The sunrise was georgeous as we drove. We arrived around 7:40am with just over an hour before the start of the race at 9:00. I went and signed in and got marked. Afterwards Michelle and I rested in the car for a while. Around 8:30 I collected all my stuff and tested my bike to make sure it was still in good running order. Everything was great except for the fact that I had forgotten to bring my speedometer. Oh well it was just something else to add to my pre-race checklist. With everything ready I headed over to the transition area to set my stuff up. Since the swim was being done in a pool our starting positions were based on our estimated swim times. As I talked with the guy beside me in the transition area who was starting right ahead of me I found out that this was his first triathlon and that he had just guessed at his time. Unfortunately he said he had never done any swimming in a 25 metre pool, only a 25 yard pool. I silently calculated the difference between metres and yards in my head. My rough estimate showed that given that I should end up passing him somewhere around 150 meters into the race. Oh well I thought. I wished him luck and headed into the pool area with my wife to wait for the start of the race.

The pool area was very crowded. This made it rather difficult to hear the race directors instructions. I wasn't to worried though, I had checked out the directions in the instruction packet that we had been given and everything seemed pretty clear (famous last words ...) Just a few minutes after 9:00 the national anthem was sung and then the race started. I was starting in 153rd position meaning that I was going to get to wait around 25 minutes before starting. My wife and I talked for a while and slowly moved near to where the swim was starting.

Soon enough it was time for me to get into the pool and get ready for my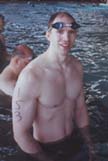 swim. With just 20 seconds to go I waved to my wife, adjusted my goggles and set my watch. 3.. 2.. 1.. Go! I was off! I tried to remember to stay relaxed. Every time I swim in a relaxed manner I seem to go faster.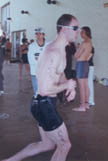 I finished the first lap and felt great. I opted to avoid my poor attempts at flip turns for fear of causing a fatal injury to anyone in the vicinity while I was doing them. Even so my turns felt much smoother than in other races. After two lengths I could see that the swimmer behind me was catching up. On the third length I felt him tap my toes. As I was considering when to let him pass I saw the guy in front of me pause at the side and motion to me to go by him. I did and by the time I turned around on my fourth lap there was no one anywhere near me. I though this was odd but I finished my final two laps and felt great. I remembered to hit my watch on the way out of the pool and was very please to see a 5:18 30 seconds faster than the previous year and I was much less winded than the year before.
The first transition was a little slow as usual. I opted to put on a jersey for the bike and it got stuck while I was trying to get it on. By the time I was leaving the people around me had arrived at the racks. I bid them goodbye and headed out with a transition time of 2:09.
I felt pretty good on the bike and was hoping to get a time in the low 30 minute range. The course wound through town for about 1 mile or so and then followed an out and back on the local highway. There were several rolling hills on the highway and the corners in town were pretty tight meaning that the course was not very fast. In addition there was wind blowing towards the racers until we hit the turnaround on the highway.
I started to crank things up and quickly began to pass a lot of riders.

In fact I was flying past most riders. In many cases it seemed like I was going at least 5 or six miles an hour faster. I kept my exertion level pretty high as I knew my time would be slowed by the wind. Once I hit the turnaround it was really time to fly. I was just zooming past most people on the downhill sections. I love the aerodynamics of my Softride. The strangest thing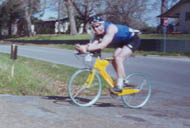 I saw was a kid probably around the age of 14 or so riding a BMX bike. I felt real bad for him as he obviously had a pretty good swim but with no gears on his bike I couldn't imagine how he was handing the hills. Soon enough I was cruising back into town trying to avoid some of the traffic (hint to race directors having the race course go past the stopping zone for an old folks home may not be the best idea) As I neared the transition area I slowed and headed back to the right where I had left the area at the start of the bike. The oncoming riders started heading straight for me and I had to go offroad for a bit through a pile of dirt and sand. Fortunately many winters of riding in the snow growing up taught me to lean on the back wheel when hitting piles of snow to avoid face plants when the front wheel stops dead. I quickly got off of my aerobars and did a little wheely over the pile narrowly missing the oncoming riders. As I entered the transition area I found out why they had swerved towards me. I was supposed to have gone left not right. For some reason they changed the course at the last minute and were having outgoing riders leave on the right side while in coming riders were supposed to cross over them and enter the transition area on the left side. This was an accident waiting to happen so I was glad to have avoided it. However the volunteer at the transition area wanted me to complete the course properly. I grabbed my bike and ran to the other entrance then turned around and headed back to my rack. By the point I was quite annoyed at the loss of time. I finished off the rest of the transition with a very slow time of 30 seconds and headed out on the run with a mission.
As I hit my watch I saw that my bike had been several minutes slower than the previous year no thanks to the near miss just outside the transition area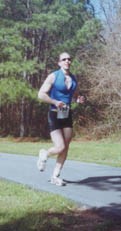 however the wind had been a bit stronger this year so hopefully I was still doing alright. I quickly sprinted past several people and settled in my run. The run was an out and back through a local park. I could see some of the speedy runners heading back in. I also saw my wife waiting around on of the corners to grab a picture. I gave her the thumbs up as I passed and plodded on. A few minutes later a very fast runner cruised on by going several minutes a mile faster than I was. He was soon followed by another runner wearing the same outfit. Then when one of the people that I had passed at the start of the run also passed me I decided that I had had enough. I cranked things up and kept pace with him and soon overtook him for good. I hit the turnaround with 12 minutes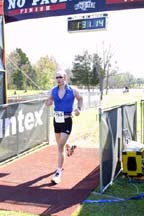 left to beat my PR on this course. I tried to increase the pace a little more but was a little disappointed when a whole crew of people passed me in big bunch. I decided that I was too close to my PR to slow down so with renewed vigor I kept going. I soon spied several runners ahead that seemed to be slowing. I decided to try and catch them. Soon I passed by one, then another. I was nearing the end of the course but I could see I was gaining on another runner. I decided that I would try to catch him. With a couple of hundred metres to go I eased on past him and started my kick for the finish. A quick glance behind me ensured that no one was about to pass so I just cruised on in the finish with a new PR of 1:06:10.
I was pretty winded after the race and quickly found Michelle. After grabbing some water to drink and resting for a bit we saw that people were starting to remove bikes from the transition area since the final rider had returned. Michelle was feeling somewhat tired so we opted for an early exit. Overall my official times were pretty good. A swim time of 5:14, the bike and both transitions 37:53 (good enough for 33rd overall out of 300) and a 5km run of 22:55 with a final time of 1:06:03. This was good enough for 8th out of 30 in my age group and 56th overall. Given the circumstances I was pretty pleased with the final results.