January 23rd 2000 marked the date of my first race of 2000. Even around Dallas January can get cold so there aren't many triathlons. However there is the 'Frost Your Fanny' Duathlon. Having been born in Canada I figured I could handle whatever Texas winter could throw out so in early January I sent in my entry form.

My goal for this race was mostly to finish my longest race to date. The race was a 5km run, 30km bike, and another 5km run. The race was in south Arlington just south of Dallas. For once my wife and I could get up at a more reasonable 6:00AM instead of 4:00AM. (Meaning Michelle could get some more sleep yet still see the sunrise.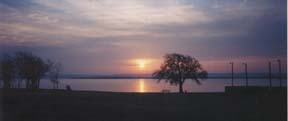 I was not completely prepared in the morning although I had layed all my stuff out the night before, I had not actually packed it so I was a little rushed getting things into the car. Next time I think I will get everything all packed the night before.
Once my wife and I arrived at the race it was clear that it was going to be larger than my previous race. There was a stream of cars entering the park. As we parked we could see other people unpacking. It seemed like everyone was pretty serious. Everyone had aero wheels, or expensive Softrides or QRs. In fact I have never seen so many Softride Powerwings at one place in my life. We parked in a field about a quarter mile from the transition area. I got my bike out of the car and gave the tires a couple of pumps of air to get them to the proper pressure then Michelle and I grabbed the rest of my stuff and headed for the transition area.
There were already a lot of people in the transition area when we got there. I got on my bike and quickly put it into the right gear and made sure that the spedometer was working then I put my bike onto its rack and set my biking cleats just underneath it along with my helmet. As more people arrived I did some stretches and some light jogging while I debated whether I should wear my cycling tights or just my biking shorts as the temperature was still in the 40s. As the start of the race drew near I grabbed a powerbar from my wife (vanilla my current favourite) and decided to go with my cycling tights (although it took some convincing from Michelle). After a few pre race announcements the first wave was called to the starting line. I joined the group and positioned myself in the middle of the pack where I hoped to be able to stay for the rest of the race.

In just a few short minutes the race was started and the pack of 40-50 runners headed out. I was familiar with the course since I had run it the previous weekend so I tried to settle into an easy rythm.
Within a quarter mile or so a lead pack of 5 or 6 had already left most of us behind. I felt pretty comfortable however my legs did feel very heavy, almost as if I was running after the bike transition. After about three quarters of a mile my legs felt pretty normal and I had settled into a position with a group of other runners in the middle of the pack. As I reached the one mile mark I checked my watch and was surprised to see a time of 6:48 I was hoping to run around 8 minute miles so the pace was much faster than I had thought. I still felt pretty good so I decided that I would continue at a similar pace. The second mile passed without much change in my position as the runners began to string out somewhat.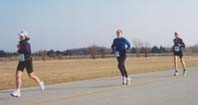 The course was a T shape, so as I started the 3rd mile I could see the lead runners starting to head back to the finish. Soon enough it was my turn to round the turning point and head back to the finish. As I neared the transition area I could see the clock and my time was 23:08 this was much faster than I had expected and was actually a PR for a 5km race. I saw my wife at the transition where I gave her the thumbs up and then I headed onto my bike. The transition was very smooth and I was out onto the course within a minute or so.
My legs felt very heavy after the run so I tried to keep the gears low and just spin for a while. The bike course started along side of the runners returning to the transition area so it was pretty cool watching them run while I was easily coasting on my bike. By the time I had left the park and started onto the 30km bike loop around town my legs were feeling better and I began to reel in other competitors. By the first turnaround I had passed 10 or more bikes and I was feeling pretty good. (Although I was tempted to call out 'See you on the run' as I passed since I knew the run was my weak point and they would probably pass me there.)
The bike course was a large loop that went north of the park where the run was, followed by an over and back crossing of a long bridge (about 3 miles each way) Just before I hit the bridge I began to pass some people on mountain bikes who were not going very fast. I began to wonder just how bad my run had been that these people had managed to stay ahead of me for that long. I also began to look for my wife since she had been thinking about walking over to the bridge to say hi. I didn't see anyone at first but just before the bridge there she was! She took a picture and cheered my on.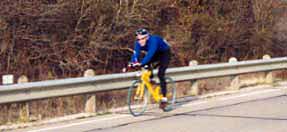 Feeling better I pressed on. Soon after the bridge I was finally passed by two of the master triathletes (age 40+) who had started in the second wave. The final bike across the bridge was a little slower than I had wanted due to a stiff breeze that came up. Soon enough I had turned into the park and was heading back to the transition. As I passed the run course I could see the lead runner just making the final turn to head to the finish. I passed him and began to pull my feet out of my bike shoes. My plan was to take my shoes of on the bike and the finish the last quarter mile pedalling with my feet on top of my shoes this would hopefully save time in the final transition. Unfortunately I was wearing gloves (a cool Christmas gift from my mother) due to the temperature and I had difficulty grasping the velcro straps.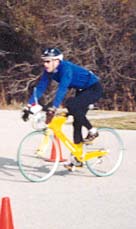 As I was fumbling with the straps another competitor passed me so I gave one final try and was able to get my right foot out. As I pulled my foot out of my shoe my calf started to cramp. I stretch my toes and was able to stop it but I had run out of time to release my left foot. Thus I arrived at the transition with only one shoe on. I hobbled over and put my bike away and the put my shoes on. This transition also went pretty quick and I had finished the bike before the first runner had finished. The time as I left the transition was 56:18 for the bike and both transitions. I checked the clock and I thought that I saw it say 1 hour 10 minutes I was estactic, that meant that my bike had been must faster than I had expected! (although this would change later)
I saw my wife again, gave her a smile and headed onto the course with my calves feeling like they were going to cramp with every step. Oh well I had enjoyed my bike and passed a lot of people so now I would have to pay. I briefly considered stopping to stretch my calves but I decided that I didn't know if that would help and besides I had told my wife that I was going to run this whole race without stopping (unlike last time where I paused during aid stations to talk to the voluteers) so on I went. Within about three quarters of a mile my calves had stopped their constant cries and had settled for just periodic pangs with a general dull ache the rest of the time. (Note to self, next time do more calves raises in training) The first mile was just under 10 minutes. A little slow but not bad considering the circumstances. I grabbed water at every aid station and felt pretty good. Around the 2 mile mark I tried to increase my speed as some of the people I passed on the bike began to pass me. The increase probably lasted for about 10 seconds and then I fell back to my regular speed. As I rounded the final turnaround I could hear the footsteps of some of the master runners coming up to pass me. I tried to accelerate but I just had no gas left. I decided to save the rest of my energy for the final sprint to the finish that I had promised my wife.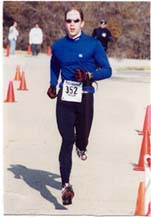 As I rounded the final corner I could see the finish just up ahead so I went into sprint mode and managed to stay ahead of one runner had been closing in fast. I screamed accross the finish in a time of 1:46:26 I was aghast with how slow my run had been, 36 minutes?!?!? However after reviewing my times I must have read the clock wrong at the transition to the final run. My times were actually 23:08 for the first 5km, 56:18 for the T1, the bike and T2 and 27:19 for the final 5km which was good enough for 87th place out of 178 competitors. Not to bad although I was only 16 out of 20 for my age group (note 5 out of the top 7 finishers were in my age group though) I also found out after the race that there were several pros in the race and a lot of the top amateurs in the Dallas area so my time is probably not all the bad. If I can shave off 20 minutes I'll be right up there with the front of the pack!!
As far as things to change for next time I just have a couple. First while I made sure that my spedometer worked this time, I need to remember to reset it next time so that I don't have a training bike included in my race times. I also need to work on my calves some more. I have noticed them getting tight on some of my longer rides but I haven't done enough to strengthen them. Nexy I need to do some longer runs and bikes. In preparing for this race my longest run was 45 minutes with some quick 5km trials thrown in and my longest bike was just over 23 miles. This isn't enough as I need more endurance at the end of the race. Finally a suggestion from my wife, at the end of the race as runners begin to pass I need to find one that is just a little faster than me and suck it up and stay with them till the end instead of letting them pass. Staying with a group sure made my first run go well, I needed to do it on the final run also. All in all this was another fun race and I am pleased with my progress.