January 21st 2001 dawned as the first race of the 2001 season, the Frost Yer Fanny Duathlon, a 5km run 30km bike 5km run. I had completed this race a year earlier so my goal was to beat my previous PR of 1:46:26. The temperature was a little bit cooler this year and with the potential for snow around Dallas I hoped for good weather. Fortunately the weatherman complied with an overcast morning, no flurries a light wind from the south east and a temperature of 37F. After learning this from the morning weather report I grabbed some breakfast and together with my wife Michelle headed off to the race.

We arrived around 7:30am at the race site and parked the car. While I got my bike set up Michelle rested in the car. The wind was strong and very cold while prepping my bike. After finishing I opted to hang out in the car with Michelle until just before the start of the race. No point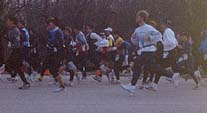 in freezing before we had to. At 8:00 we headed over to the transition area. I was carrying my bike and Michelle was carrying a sleeping bag to keep warm! We arrived at the transition with perfect timing. As soon as I placed my bike on the rack the race director called for the pre race meeting. 5 minutes later after some instructions about not drafting, we were lined up and ready to start the run. With a brief countdown we were off.
I had lined up near the back of the pack (somewhere behind Karen Smyers) and quickly made my way through some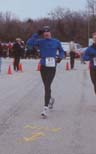 of the slower people in front of me. I wasn't sure what sort of time I was going for this early in the season so I opted to keep my cadence pretty quick and see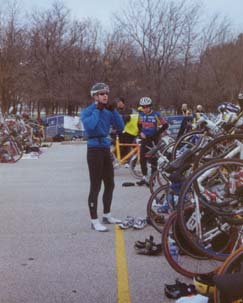 how things went. I hit the first mile marker in just under 7 minutes. I was still feeling pretty good and since I had started near the back very few people were passing me. I hit the 2 mile marker in just over 15 minutes a little slower than I had hoped for but at least the speedy over 40 year olds in the second wave had not caught up to me yet. Just past the 2 mile marker I saw the first runner come flying by towards the finish. Several minutes later I hit the final turnaround and headed back myself. I increased my speed a little but was a little disappointed when I hit T1 in 23:38. I had hoped for a faster time than my race the year before but had ended up 30 seconds slower At least I didn't feel too tired. I was also nice and warm thanks to my wife who had kindly lent me her headband to keep my ears warm. When I saw her at T1 I tosed the headband back to her.
After a slow 1 minute transition I was off on the bike. I noticed that my legs

felt pretty good. I was passed immediately by someone in a neon green jersey who I decided that I would target to pass. I waited to get around some slower riders in front of me and then I raced after him. I was able to just barely keep up with him. Finally as he got bogged down by some slower riders in front of him I took the opportunity to close and then pass. We keep this up for most of the first 10 miles with one of us passing the other only to be repassed later. At this point we turned south for about 4.5 miles into the wind. Up to this point on the bike I had stayed warm from the first run but 10 minutes after heading into the wind my fingers began to get numb. Meanwhile a pack of riders had formed around me and my pacer. In all there were about 5 of us going around the same speed. Things were starting to look like drafting so after trying to pull ahead and failing I opted to drop back and trail just behind the other 4. This was a good plan seeing as just moments after I dropped back an official on a motorbike appeared and followed beside the pack for a while. Everyone got spaced out a little bit just before the final turnaround. After turning north to head to the finish I had the wind at my back and was able to crank things up to 24-25 MPH. Even with this additional speed I was starting to slowly lose ground to the pack in front of me. As we passed the short course turnaround I began to see a lot of slower riders who seemed to be suffering in the cold a little more than we were. Some of them didn't even have gloves! I encouraged several of them as I flew on by and soon turned into the park for the final mile of the bike. In order to get my legs ready for the final run I geared down a little and began to spin some more. A quick glance behind me showed that there was no one close to me. I eased up another gear and started to prepare for the transition. A quick glance at my watch showed that my time was not going to be as good as the previous years. I was a little surprised since I didn't remember going under 20MPH the whole ride. At any rate I arrived at the transition just behind the pack with a time of 55:28.
I took my time at T2 taking 59 seconds. I was ready for the 'lead legs' feeling as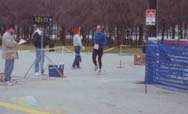 I started my run but was pleasantly surprised that my legs responded pretty good to my first few strides. I saw my wife as I exited the transition and told her I felt pretty good. I glanced at the official clock and saw that I would have to run a sub 25 minute 5km to beat my previous time. With renewed vigor I kicked things into gear.
As I started the run I could see a lot of the short course runners still going. This was a good ego boost as I was able to pass a good number of them instead of my normal final run where I get continuously passed. In fact the first runner didn't pass me until just around the first mile marker which I hit in 8:43 - a good time for my first mile. I was breathing heavily by this point but my legs still felt pretty fresh. A quick self check told me that I should be able to speed things up a little. I hit the 2 mile mark in just over 16 minutes. I was still on pace to beat my PR for this race. Only
3 more people had passed me and I was actually catching up to one runner. I did another quick self check and opted to speed things up until the finish. At this point I saw Charles whom I had met at several previous races cruising back in towards the finish. The fact that he was this far in front of me was impressive since normally I would pass him on the bike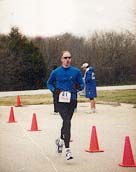 and he would pass me on the run. I figured that he must have really worked on his bike. I was now breathing with almost every stride. I hit the turnaround in 18:35 and headed for home. Two more runners eased on past but a quick glance behind showed that there was no one else closing. In fact I could see a steady stream of runners still heading in the opposite direction. Cool maybe my run was improving. As I rounded the final corner I sprinted towards the finish and stopped the clock with a time of 1:45:54 a new PR for this race. My final run time was 24:44 much improved over the previous years 27:38 run.
As soon as I finished I saw Charles, I congratulated him on his run and how fast he had been going. He explained that he was part of a relay and had only done the two runs, not the bike. After finding my wife still bundled (and warm) in her
sleeping bag I got some drinks bagels and photos. After waiting for the last cyclists to finish we opted to head for home since things seemed to be cooling off. Overall my times were 23:35 on the first run, 57:35 for T1, the bike and T2, and 24:44 for the final run for a total time of 1:45:54 and a placing of 48th overall out of 150. As it turned out the bike was a little long

with a final distance of 33.5km instead of 30km so my average speed on the bike was actually just over 22MPH good enough for 28th overall (and a faster time than Karen Smyers :) My runs were a lot better overall this time with my second run being just over 1 minute longer than my first instead of the usual 4-5 minutes. The hill work that I added to my training appeared to keep my legs feeling much better on the final run. My overall time was also better than it first appeared after examining the previous years results most people were 4 minutes slower this year meaning that my small improvement was actually better than I originally thought. All in all a good start to the year.